GLOW UP ALERT: Jordyn Woods Secures Lucrative Partnership With Playboy Magazine
Jordyn Woods' star has been shining brightly ever since she distanced herself from the Kardashians.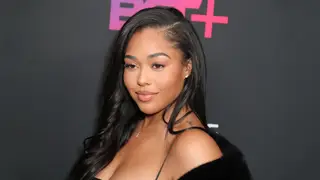 Former Kardashian-Jenner clan bestie Jordyn Woods has remained in the public spotlight even after the family of cultural appropriators tried to have her canceled in 2019. Woods' latest endeavor had tongues wagging all over Beyoncé's internet.
The 24-year-old beauty has partnered with the recently rebranded Playboy Magazine, and the socialite left no crumbs in her sultry photo shoot with the 68-year-old publication founded by Hugh Hefner.
"Announcing @jordynwoods as the newest creator on @playboycenterfold 📢 Go to the link in bio for her content about beauty, fashion, fitness, body positivity and more," the post from Playboy's official Instagram account read. A black and white picture of Woods donning a sheer black robe with feathers and wispy tendrils sculpting her face created an alluring image of seduction and innocence.
The native Californian also took to Instagram and posted her cover photo with her announcement of her newfound partnership with the legacy magazine.
"Excited to announce my newest partnership with @playboycenterfold @playboy ❤️ link is in bio for all of the exclusive content," she wrote.
Woods has been riding high since her split with the Kardashian-Jenner family. She has been seriously dating Minnesota Timberwolves basketball player Karl-Anthony Towns for the past two years.
In May, the adorable couple was invited to The White House after President Joe Biden signed the Police Reform Bill into effect. Woods shared a photo of their visit on Instagram.
"For those of you wondering why we were at the White House, @karltowns, my other half, does countless things for social justice and has done a lot in his community, especially where he plays basketball (Minnesota), where the George Floyd incident took place. This is just the start of different initiatives we are working on behind the scenes to help make this world a better place for our peers and for our youth. ❤"