INTERVIEW: 'Colin in Black & White': Jaden Michael Reveals How His Playing Colin Kaepernick Helped Discover His On Sense Of Blackness
"As I am diving into Colin's perspective, challenges and struggles with society, I, too, was noticing the same challenges and microaggressions."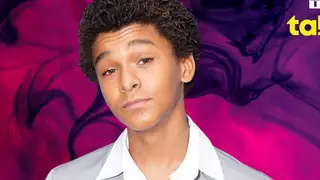 Netflix's latest miniseries, Colin in Black & White, starring Jaden Michael as Colin Kaepernick, is now available on the streaming platform.
If you haven't binge-watching it yet, you probably should.
Created by the former NFL quarterback and acclaimed director, Ava DuVernay, the six-episode drama series follows Michael, who plays Kaep during his high school years, as an adopted biracial kid, growing up in an affluent white neighborhood in sunny California.
"As I am diving into Colin's perspective and into Colin's challenges and struggles with society, I, too, was noticing the same challenges and the same microaggressions. It provided a great toolbox for me to pick situations from to connect with what Colin went through," he says.  "I definitely felt a similar sentiment of why do I feel uncomfortable, I know I feel uncomfortable and the sense of maybe it's my fault."
Throughout the series, Kaepernick narrates and has emotional moments with his younger self, as they explore the racist mistreatment he suffered, navigates his parents' expectations, and even shares his first experiences with identity surrounding Black hairstyling.
Mary Louise-Parker, Nick Offerman, and Klarke Pipkin also star in the Netflix series.
Watch the full interview with BET.com below: