'CBS Mornings' Co-Host Nate Burleson Reveals How Past Bout With Depression Led Him To Seek Therapy
After tearing his ACL in 2008, the former Seattle Seahawks player said he would drink alcohol to cope with his injury.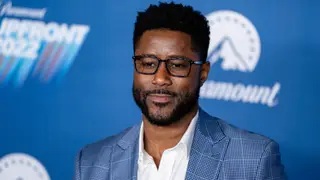 Nate Burleson is getting candid about a challenging time in his life when he battled depression.
During an interview with The Unwind, the "CBS Mornings" co-host opened up on his mental health journey and how therapy helped him develop better habits.
In 2008, Burleson tore his ACL which prevented him from playing most of the season with the Seattle Seahawks. "In that moment, I felt so much solitude," he said.
Following his injury, Burleson began coping by "drinking every single night."
He continued, "It started with a shot of vodka to a double shot to just telling the bartender to fill it all the way up," he remembers. "And then at one point, I just gave him $100, and said, 'Hey, could you just give me a bottle, and I'll just take it to my room?' One night, I drank almost a quarter of the bottle, and I woke up on top of the sheets completely dressed. And when I looked down at myself, it was like I was laying in a casket."
That haunting visualization became a turning point in his life.
"I walked over to the garbage, and I just put the bottle in there and I was like, 'Alright, we're gonna leave that alone until we have enough strength, and you have your mind right,'" he recalled. "That was the moment where I realized how strong depression is and how easily it can grab you."
Still, he would not start attending therapy until his 30s.
"I think more people are starting to realize that — that it's not just about [scratching] the surface and uncovering some small morsel of truth about yourself," he explained. "It's more like digging, literally excavating the soul. The more that you dig, the more you uncover."
Now, at 42, he is in a better space mentally and is using his voice to create a better foundation for his wellbeing.
"If you don't speak on what you're going through, nobody will ever know," he said. "And then, you can't turn around and blame them for not being aware of what you're dealing with."