Todrick Hall Goes Instagram Official with New Boyfriend
He revealed they have been dating about six months.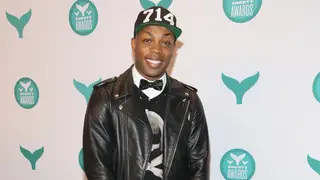 Todrick Hall and Liam Roodhouse are an item.
On Monday (August 21), the singer announced to his followers on social media that he and Roodhouse are officially a couple.
"Boyfriend Hard Launch 🚀," he began in the caption of the post on Instagram.
"I started dating @liamroodhouse about 6 months ago and it seems like every single day he gives me a new reason to fall deeper in love with him! I'm a lucky guy to get to call this incredible human MINE, and even luckier that I get to dance beside him every night for the next two months on tour! Let's go baby boy! I HAVE A BOYFRIEEEEEEND!" the "Y.A.S" rapper continued.
The post also included multiple photos of their journey so far, featuring both wearing platinum tops as Hall places a sweet smooch on his boyfriend's cheek. Another image shows Roodhouse sitting up in bed, getting ready to eat a cupcake inscribed with "I Love You."
For the new couple, a date night filled with fun is a must. In another shot, the duo is seen taking a photograph with Janet Jackson in May during her Together Again Tour. The couple also embraced scary shenanigans while dressed in Halloween costumes as Hall impersonated the King of Pop –Michael Jackson– during his 1992 music video for "Thriller."
They also took more snaps with more famous friends, Pussy Cat Dolls singer Nicole Scherzinger as Roodhouse flashed the peace sign, and R&B songstress Deborah Cox.