Issa Rae Got Cussed Out By A Fan About 'Insecure' Delays – And Her Response Was Perfect
She dropped a new detail about production with her clapback.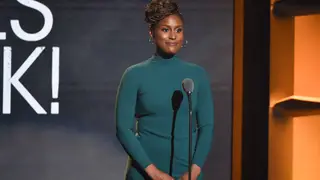 Insecure fans have been impatiently awaiting the show's Season 4 premiere ever since its delay was announced in April. With this in mind, hungry fans have been harassing the show's star and executive producer, Issa Rae, for answers, and one took things a bit too far.
A Twitter user bluntly asked the actress, "F**k is you doing? Where is Insecure? You on bulls**t."
Rae issued a calm response, and also hilariously confirmed that the highly anticipated fourth season of the HBO dramedy is about to begin filming.
"Hey kind sir, we're still writing," she tweeted. "But we start shooting in a week and a half, if you can believe that. Alright, be well and stay long!"
This comes almost a year after showrunner Prentice Penny explained in a detailed tweet that keeping the number of episodes per season at eight helped get the show to viewers more quickly. However, to compensate for the delay, the forthcoming fourth season will feature 10 episodes.
As previously reported, the season was pushed back due to Issa Rae's bustling film career, with her appearing in blockbuster smashes like The Hate U Give and Little.
Season four of Insecure is set to premiere in 2020.