Could Blac Chyna Be Joining Love & Hip Hop?
Mona Scott-Young dishes.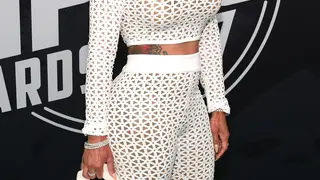 Blac Chyna has been in talks to join the inaugural season of Celebrity Big Brother US. However, it seems as another major reality show franchise is eyeing the former stripper to join the ranks.
Mona Scott-Young, the head honcho over at the massively successful VH1 reality TV franchise Love & Hip Hop, spoke on her wish to have Chyna join the family during an interview on The Wendy Williams Show.
"So, I hear Chyna's rapping now," she said. "So Chyna, I think she should be on Love & Hip Hop. What do you guys think?"
The audience resoundingly expressed their disapproval of her suggestion before Wendy added that she should only join the franchise if she bring's her ex-fiancé Rob Kardashian along for the ride.
What do you think of this? Would you be here for Blac Chyna joining Love & Hip Hop?
Get more news on the franchise with BET Breaks, above.