D.L. Hughley Opens Up About Losing A Child Conceived During An Affair
The comedian was completely transparent.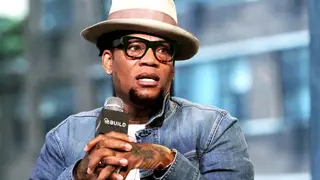 D.L. Hughley is known for unapologetically speaking about his life experiences, using either his comedy or his more personal interviews as outlets to do so.
Most recently, the star of The Comedy Get Down chatted with Angela Yee on her podcast, Lip Service, where he dished on how he tragically learned of the death of his son, who was conceived through an affair early on in his career.
The actor/comedian started out by explaining that he was being unfaithful to his wife and had a child in the process. Things took an even more tragic turn when the infant was killed by his mistress' boyfriend.
"So I had knocked this chick up and she had the baby and the baby got killed by her boyfriend," he said. "So, it was a horrible, horrible experience. I had this baby I'm paying for. I'm a boy. I'm scared. I'm married. I'm just starting out my career, and I get a call from my boy and he said, 'Your son is in the hospital,' and I go... So I go to the hospital, and this boy was lying in the bed and apparently her boyfriend had shaken him and damaged his brain."
What shocked him most, however, was his wife's reaction when he finally built up the courage to come clean.
"I knew that one day I would be man enough to tell my woman what happened," he continued. "Finally, one day, I tell my wife. You know what she said to me? 'I wish you would've told me and we could've went through this together.'"
Listen to the interview excerpt, below:
Get more DL Hughley news with BET Breaks, above.