Watch: Donald Trump Defends Stop and Frisk, Says Solution to Race Problems Is More 'Law and Order'
He also bragged about getting Obama to produce his birth certificate.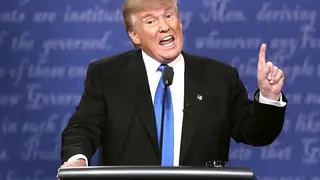 Donald Trump, by all accounts, took a huge L at last night's presidential debate, but nowhere were his comments more frightening than in the segment when the candidates talked about race in America.
Asked by moderator Lester Holt how best to repair race relations in this country — particularly about the distrust between Black communities and police following the deaths of so many Black men and women at the hands of police — and Trump's response was to brag about his recent endorsement by the Fraternal Order of Police and say that "we need law and order in our country."
He then went on to defend New York's controversial stop-and-frisk law, which was deemed unconstitutional because of the way it disproportionately targeted Black and Latino people, and seemed to imply that the practice should be a national policy.
But most astounding, however, was his response to questions about the birther movement he started back in 2007. Instead of apologizing for the thinly veiled racism and xenophobia of the movement, or setting the record straight about where he stands on the matter, he actually bragged about it: "When I got involved, I didn't fail. I got him to give the birth certificate."
He also admitted that he only started paying attention to the concerns of the Black community in "the last little while," all while failing to offer any solutions or policy proposals to help Blacks or any other minorities.
Here's what Twitter thought:
Looks like Trump's already meager numbers among minority voters just shrunk even further.