Images Surface of Django Actress Allegedly Having Sex in Car
Pictures show Danièle Watts exposed while straddling boyfriend.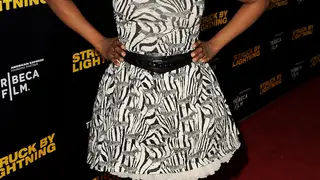 Just days after Django Unchained actress Danièle Watts claimed that she was racially profiled for kissing her white boyfriend in public, photos surface proving that more might have went down. The photos show Watts stradding her boyfriend with her body exposed while his legs hang on the curb.
TMZ has obtained the images which are set in the CBS lot in the Studio City production facility. In addition to noticeably seeing Watts mounted on top of her boyfriend Brian with her skirt pulled up, their hands can also be seen steadying themselves around the car's sunroof.
Further proving what actually occurred, an eyewitness who saw it all as he worked in a nearby office told TMZ that Brian was sitting in the passenger seat while Watts was grinding on top of him, rocking back and forth while her breasts were exposed.
Though someone from the office went down and asked the couple to stop because everyone could see them, they continued.  The eyewitness also said when they were finished, Brian reached into the center console, grabbed a tissue and wiped himself and Watts down before tossing it on the grass.
Someone from the office then called the police and made an indecent exposure complaint.  There have been no additional comments from Watts or her boyfriend.  
BET.com is your #1 source for Black celebrity news, photos, exclusive videos and all the latest in the world of hip hop and R&B music.
(Photo: Kevin Winter/Getty Images)