Steve Harvey Apologizes for 'Unfunny Comedian' Post Shared by a Staffer
'I would've never done nothing like that,' the longtime comedian explained.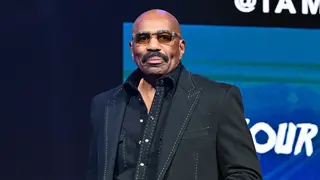 Steve Harvey is not laughing after someone from his team recently went off script.
On Friday, the beloved television host took to social media to apologize to his fans after an employee reportedly shared a shady tweet from the actor's verified Twitter account. The tweet asked users to name a comedian they "don't find funny at all."
The longtime "Family Feud" host paused his weekend to address the incident. In the minute-long clip, the 66-year-old explained, "Somebody that works for me on my Twitter put a statement out that was totally negative."
He added, "I gotta take responsibility for it 'cause they work for me, but the engagement was talking about, 'name a comedian you don't think is funny.' Looking visibly confused, Harvey asked, "Why would I do something like that? That don't even make no damn sense."
The actor expressed that the entire message went against everything he stood for because his "whole brand is to be motivational." He added, "You don't know where these young people at in they career, man. They could be coming up or anything. I'm all about positivity. I would've never done nothing like that."
The post has since been deleted. But its effect left the comedian "so pissed off."

"Talking about, 'I was trying to get some engagement.' Okay … you trying to get some employment, too. My bad, y'all. Now I gotta come on here and doing a damn selfie," Harvey added.
The "Love Don't Cost a Thing" star ended his video apologizing once again, telling supporters, "So here it is. I'm sorry. My bad, y'all. Won't happen again, though."