Ruthless' Cast Promises BET Plus Viewers That Season Three Will Be More Intense
There will be some "power struggles" to come, according to the series regulars.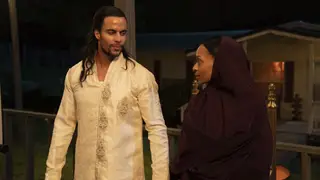 *This interview has been edited for length and clarity
Season Two ended on an intense note, which sent the campus into chaos with Season Three opening with the aftermath.
The actions of last season send each character on their own journeys to seek power by using unorthodox tactics, which is a recipe for disaster waiting to spiral out of control. Ruth is set on becoming a powerful member of the cult, hoping to become next in command to the Highest, aka Tyrone Luckett played by Matt Cedeño. As the season unfolds, we see Ruth has no picks when it comes to lying and deceit to get to the top.
BET.com spoke with Melissa L. Williams (Ruth Truesdale), Baadja-Lyne Odums(Marva/Elder Mother), Matt Cedeño (The Highest/Tyrone Luckett), Lenny Thomas (Dikhan), and Blue Kimble (Andrew) about the relationship dynamics this season, power struggles, and how trust impacts each character's choices.
BET.com: This season, we see Ruth manipulating Marva for her own personal gain. What can we expect between these characters as the season continues and is there one incident that sends things completely over the edge?
Baadja-Lyne: Everything is leading up to an explosion. You have to stay tuned. If you think my character and Dikhan are having problems, there are other ones that are going to get intense. We're going toe to toe and that's all I can tell you.
Melissa: There's no respect between these two ladies. This season, because it is a power struggle with Ruth getting this title of Highest to be and Marva becoming the "Supreme" Elder Mother, however, you can't top the Highest to be. There are going to be some words exchanged between Marva and Ruth that are not on the respectful side, but there is a moment in Season Three where fans are going to see that somebody gets got.
BET.com: Lenny, let us know how will Dikhan's power increase as the season unfolds, and what do you think will be his ultimate downfall?
Lenny: I'd be surprised if Dikhan has a downfall, but I'm sure Ruth will be right by it if it were to happen. His influence goes up and down, but he's always doing something to gain further favor with the Highest so he will never be replaced but Ruth is coming for his spot. In addition to Marva and Andrew gunning for my title, Dikhan is trying to keep the beasts away from the Highest. Unfortunately, he's taking my enemy/lover as a wife now. People do desperate things when in desperate situations, so it's only going to become more desperate.
BET.com: Matt, how will your character reassert his dominance and how will he determine who to trust and who to cut loose?
Matt: That's a tricky question because people are supposed to be super close to the Highest, and it's frustrating for my character because the Highest has laid down a matter of conduct people should be abiding by. I do have my third eye that is giving me some sensations which lead to troubled feelings. My character will go to any extreme to maintain the order, and that goes for Dikhan who almost received more than just a "paper cut" at the end of Season Two. It's always unpredictable how the Highest will react depending on the amount of medication he has in his system due to the Elder mother sprinkling things in his food (laughs).
BET.com: Blue, what character development will Andrew continue to go through this season and what are you most excited for folks to see?
Blue: Andrew is going through it and the sheriff came out to reveal himself as a dirty cop. Brian has gotten caught by "Dirty Dikhan," and my character is just trying to get people off his neck. Andrew has to prove his loyalty to the Raku and in order for me to do that, it's going to make me do things I'm not proud of but save the kids.
BET.com: If you could describe the season in one word, what word would you use?
Melissa: I would use feenin', as we'll have the people feenin' for more.
The new season of Ruthless will have you on the edge of your seat so make sure you catch all-new episodes every Thursday on BET+.
Ty Cole is a New York-based entertainment reporter and writer for BET.com who covers pop culture, music, and lifestyle. Follow his latest musings on Twitter @IamTyCole.