SpaceGhostPurrp Preps New Project With Odd Future
The A$AP Rocky-affiliated MC-producer just dropped his studio debut, Mysterious Phonk: The Chronicles of SpaceGhostPurrp.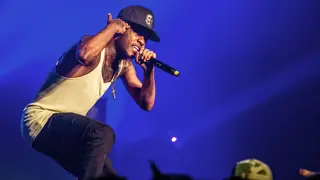 Much of the world let out a collective "who?" when A$AP Rocky's beyond-hyped LiveLoveASAP mixtape revealed multiple credits from SpaceGhostPurrp, both on the mic and behind the boards. But really, they were just catching up to folks already in the know.

SpaceGhost had previously released a flurry of lo-fi homemade mixtapes online, finding fans in high places, including Juicy J of Three-6 Mafia, Odd Future and Kreayshawn. And now he's ready to cash in on his cosigns with his studio debut, Mysterious Phonk: The Chronicles of SpaceGhostPurrp, which dropped last week via indie label 4AD. 

But the album — comprised of higher-fi remakes of Space's past material — is a departure from the purposefully distorted, unmixed music that he blew up off of.

"It's basically all of the old s--t I made in the past for all my fans who wanted to hear my old music remastered," the 21-year-old Miami native tells BET.com. "So I told them to vote and tell me their favorite songs that they wanted to be re-mastered, and I mastered it. That's what it's all about: high quality."
The new approach should open up SpaceGhost's quirky, murky, mysterious music, which draws heavily from '90s rap, to new audiences. "My sound is the dark Miami sound," SPG says. "Growing up I was listening to Three Six Mafia, N.W.A, all the West Coast folk, Down South folk, East Coast folk back in the '90s — it elevated my whole craft."
With these influences, it only makes sense that SPG linked up with A$AP, who doesn't hide his love for Bone Thugs, Three-6 and other golden-era icons. "Me and Rocky linked up after he dropped 'Purple Swag,'" he says. "It was like regular neighborhood s--t when you're in the studio with your n---as and y'all just all on the same vibe. Then we started doing shows and s--t just took off. People are big fans of us as a duo. He changed the game."

Space also credits Odd Future, another crew of '90s babies who channel the music of their infancy, as key early boosters of his music — and planned future collaborators. "Odd Future use to play my music at their tours and stuff," he says. "Me and OF got love for each other, and we're about to do some s--- soon. We're not going to tell anybody when we're going to drop it, but we'll surprise people. I know people aren't expecting it, but we're going to kill them with it."

The big plans, big moves and big records are a strange, new look for a rapper whose obscure pop-culture and religious references, muddy sound quality and horror-core influences made him an unlikely candidate for mainstream fame. But Space has never seen himself as just another kid with a microphone and a Twitter account. "I'm not a rapper who just comes out and makes one song and raps about the same s---," he says. "I don't want to be the best lyricist or none of that s—t, I'm a real artist."

BET.com is your #1 source for Black celebrity news, photos, exclusive videos and all the latest in the world of hip hop and R&B music.

(Photo: David Wolff - Patrick/Redferns via Getty Images)