Faizon Love Says Kevin Hart Is A Better Comedian Than Dave Chappelle In Epic Rant
He also has words for Judd Apatow.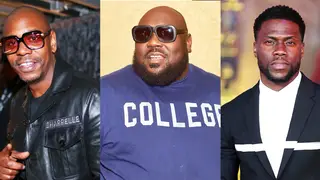 Faizon Love has garnered a reputation of unapologetically speaking his mind when it comes to just about anything or anyone and that, apparently, includes his peers in comedy.
The comedian appeared on Sway in the Morning and immediately ripped into comedy greats Dave Chappelle and Judd Apatow. 
He started out by stressing that comedians should not be afraid to say "real s**t," saying, "We're here to tell you what we see." That was the disclaimer listeners received before he went rogue on a couple of his peers.
The former Real Husbands of Hollywood star set his target on Chappelle, questioning why Netflix chose to give him millions of dollars to release comedy specials exclusively on their streaming platform. He claimed that shouldn't have been the case seeing as Chappelle had been absent from the comedy game for several years prior to his recent comeback.
"He's talented but is he $40 million worth?" he asked. "They were callin' this n***a the king. Of what?"
Love continued to express his confusion with Chappelle's success by claiming the iconic Chappelle's Show was only entertaining because of Charlie Murphy's involvement. He then made the declaration that Kevin Hart is currently the new comedy king and has dethroned Chappelle.
"Kevin Hart is homegrown, creative by himself," he said. "Dave Chappelle is manufactured in Hollywood. He's never done anything besides the show that was fire."
In addition to his scathing comments about Chappelle, who may rake in $60 million from his Netflix deal, Love also dragged Judd Apatow, calling him a "b***h ass motherf**ka."
He claimed in the sit-down that Apatow is a hypocrite because he went to Bill Cosby's shows with signs in tow accusing him of being a rapist but failed to speak up when "all the s**t came out about his homeboys."
Listen to the interview, in full, below: