About
Sessions is a 6-episode mini-documentary series that puts new unsigned artists on the map! You'll get to see the projects that they are working on, the places, stories and experiences that inspire their work. Each episode will be between 5 and 7 minutes in length and consist of a studio session, sit down interview and footage of the artist in a natural setting like a radio station visit or club performance.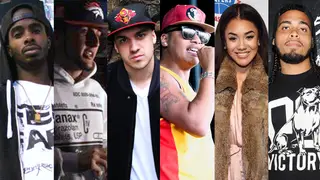 Sessions is a six-episode mini documentary series that puts new, unsigned artists on the map! You'll get to see the projects that they are working on and the places, stories and experiences that inspire their work. BET.com partnered with Offset Films (who was supported by DJBooth.net and SMS Audio) to make clips of this series available on BET.com, with full episodes available exclusively in the BET NOW app.  
Below is a list of artists and the air dates of their episodes. Be sure to download the BET Now app to be alerted when new episodes are available.                                                                       
Propane Fame is making a lot of noise in the streets of New Jersey with hit singles, "Give & Go," "Wish List" and "Beastie Boy" from the Dirty Laundry album and short film produced under his label MNDS. In this debut episode of Sessions, we follow Feli Fame to Diamond District Studios, an interview with DJEnvy and Hiphopnation on Sirius XM and an intimate showcase at La Petite Mort in NYC. The spotlight is placed on Fame's upcoming album, Everything Starts From Now, which features the buzzworthy "Bleachers" and undeniably catchy "Highlights."
Could Fort Lauderdale's finest rapper be an 18-year-old that holds the title of having the most downloaded mixtapes from an unsigned artist from South Florida? Log on and find out when Sessions hits the road with Hi-Rez.
Born to a Venezuelan father and Caucasian mother, Sessions catches Emilio Rojas keeping it real as he shares his struggle to identify with both sides of his heritage. He also gets political, fighting the power on a regular basis, expressing his frustration towards what he believes to be an abusive immigration policy towards Hispanics in the United States through his music.  
The New Jersey singer and songwriter is best known for her remix of YG's hit single "Who Do You Love," but she's got original music that's making fans fall in love too. Her strong vocal range and ability to navigate several genres of music is far from average -- it's on fleek!
Jitta On The Track - June 22
Connecticut's Jitta on the Track had a big year in 2014, and is showing now signs of letting his Lumber Life movement slow down in 2015. The 22-year-old has already toured with Webby and Drake, and has a new mixtape slated to drop this summer. 
The lyrical genius takes after his father, the late Big Pun. However, he's determined to carve out a name for himself in New York's underground hip-hop scene just as his father did in the Bronx. The talented MC is letting us know what he's about with heavy hitters like his recently released single "War Room."            
SMS Audio: Founded by 50 Cent, in 2011 as a consumer electronics company that primarily manufactures and markets headphones.
DJBooth.net: Builds a community of music lovers around its exclusive collection of audio features, interviews and charts.