Watch: Viola Davis Reveals the 'Golden Ticket' That Transformed Her Career
The 'Fences' star says this is the moment that changed everything.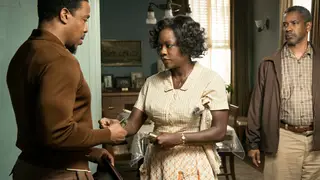 Let us be the first to congratulate Viola Davis on her first Oscar win.
While the actual awards ceremony is still several weeks away, anyone who sees Fences will know it's pretty much a lock for Ms. Davis, whose stirring performance as an embattled housewife has been universally acclaimed. We had the honor and priviledge of sitting down with Viola to talk about the film, and also her remarkable journey from marginalized Black actress to powerhouse of stage, big screen and television. The turn, she tells us, happened at a very specific point.
Back in 2009, Davis famously said that she mostly gets offered work by white directors, as opposed to Black filmmakers. Obviously, that's changed in the past few years — she was not only tapped by actor/director Denzel Washington for Fences, but is the lead on the Shonda Rhimes series How to Get Away With Murder — and she can point to a specific moment in her career where, as she says, "my profile changed."
See the moment she's talking about, plus what her Fences character Rose taught her about marriage, in our exclusive interview, above.
Fences opens nationwide on Christmas Day.