Five Heartwarming Documentaries To Watch With The Family
From Tyler Perry to Michelle Obama, these films will move your soul.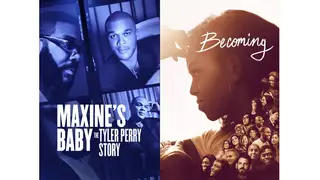 Gather the family around for an enriching and heartwarming documentary experience this season. As the holiday spirit fills the air, delve into stories that celebrate the resilience of the human spirit. These five captivating documentaries offer inspiration, courage, and empowerment, perfect for a family movie night. From Tyler Perry to Michelle Obama, you will be inspired.
Maxine's Baby: The Tyler Perry Story

Embark on a journey through the life of Tyler Perry, witnessing his remarkable rise from challenges to triumphs in the entertainment industry. It's a tale of determination and a tribute to his beautiful mother. Just released this month, you can watch on Amazon Prime.

"A Ballerina's Tale":

Follow Misty Copeland's inspiring journey to becoming the first African-American principal dancer at the American Ballet Theatre. This documentary showcases her perseverance, breaking barriers, and realizing her dreams against all odds.

"And Still I Rise: The Maya Angelou Documentary":

Immerse yourself in the life and legacy of Maya Angelou, a literary icon, poet, and activist. Discover her wisdom, resilience, and indomitable spirit through this compelling portrayal of an extraordinary woman.

"John Lewis: Good Trouble":

Honor the legacy of the late civil rights leader John Lewis by exploring his lifelong dedication to justice and equality. This documentary pays tribute to his unwavering commitment to activism and positive change.

"Becoming"

Michelle Obama's documentary is an intimate portrayal of the former First Lady. Join her on a journey of self-discovery, resilience, and a mission to inspire others to embrace their true selves.