Naomi Osaka Partners with Meta for Digital Apparel Line
The tennis star and mom-to-be called the line 'eclectic' and 'unpredictable.'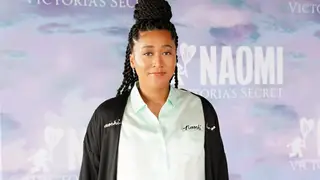 Four-time Grand Slam tennis champion, Naomi Osaka is partnering with Meta for a new, digital-only apparel line she designed for the Meta Avatars Store that will be available on Instagram, Messenger, Facebook and in VR.
"Being able to take trends from the real world and translate into the metaverse was really fun," Osaka said in a press release, per People. "Plus you can try a lot of new things when designing digitally—it's all about pushing myself outside of the box."
"To me, one of the most exciting parts is that digital apparel is much more accessible than luxury apparel in the real world."
"I can dress my avatar in whatever I want—there's a lot more freedom and flexibility to have fun and experiment with looks and designs," Osaka, 25, added.
The digital collection will feature five looks that the champion described as "eclectic, unpredictable, yet comfortably cool."
One look features a pair of furry joggers inspired by Osaka's dog, Butta. She said, "This was inspired by two very different things, both of which I love. The first was my dog Butta, which is why I included the paw prints. He brings so much light and love into my life and he's also super soft and cozy, so I wanted to create a look that emulated him a little. But at the same time, I was recently in Japan and I saw a lot of cool outerwear there and was trying to imagine what a neutral toned bomber could look like. So this whole look is sort of the best of both worlds — Butta and Japan."
Osaka is currently expecting her first child with boyfriend rapper, Cordae.
In announcing her pregnancy in January of this year, Osaka wrote, "The past few years have been interesting to say the least, but I find that its the most challenging times in life that may be the most fun," she wrote. "These few months away from the sport has really given me a new love and appreciation for the game I've dedicated my life to. I realize that life is so short and I don't take any moments for granted, everyday is a new blessing and adventure."
Osaka added, "I know that I have so much to look forward to in the future, one thing I'm looking forward to is for my kid to watch one of my matches and tell someone, 'that's my mom,' haha. 2023 will be a year that'll be full of lessons for me and I hope I'll see you guys in the star of the next one cause I'll be at the [Australian Open] in 2024. Love you all infinitely."