Robyn Dixon Talks Life, Marriage, And What She Loves The Most About Her Husband Juan Dixon! [EXCLUSIVE]
The 'Real Housewives of Potomac' star also shared with BET Lifestyle her Valentine's Day plans.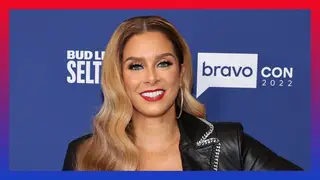 Robyn Dixon and Juan Dixon recently tied the knot—again—with a beautiful and intimate wedding ceremony. The Real Housewives of Potomac star took to Instagram on Sunday (Feb. 5) with photos from their lovely outdoor nuptials, which were planned by Event Design Group.
"Our way, our why," the new bride captioned a carousel of images giving fans a sneak peek of the wedding party, which consisted of the couple's sons—Corey and Carter—and Robyn's parents.
The Dixons have often kept details about their relationship private, but with wedding bells ringing on the latest season of the RHOP, their union quickly became a hot topic.
BET Lifestyle recently chatted with Mrs. Dixon about why they chose to keep details about their wedding under wraps. Keep scrolling to read the candid interview.
BET.com: You looked fabulous in your Albina Dyla gown at the RHOP reunion. What was the inspiration behind your look?
Robyn Dixon: Thank you! I came across the dress in black and loved that it looked regal, beautiful, simple, and modern at the same time. I requested it to be made in the reunion theme color blue, which they were happily able to do. Once I put the dress on, it gave me an old Hollywood feel, which then inspired my hair, makeup, and jewelry selection.
BET: This season of RHOP was filled with memorable moments. Do you have a favorite personal highlight from this year's show?
RD: Of course, sharing my wedding day is my personal highlight from this season. It truly was a beautiful day that felt 100% authentic to me and Juan. The bachelorette party was also a huge highlight because we had the most fun ever!
BET: On the latest episodes of RHOP, you revealed some details about your wedding plans. Congratulations! Why have you decided to keep details about your wedding under wraps?
RD: I felt very strongly about keeping our wedding very intimate. We had a huge, 400-person wedding in 2005. It was beautiful, fun, amazing and memorable, but I remember getting more wrapped up in the event of it all and not keeping the focus on me and Juan and our marriage. I didn't want that to happen again with our second wedding. I felt it was better to tell as few people as possible so that we didn't feel compelled to add to our guest list. We wanted to be able to focus on the most important people on that day—me, Juan, Corey, and Carter.
BET: Do you have any regrets about sharing past details about your relationship on the show?
RD: No, I have no regrets at all. I believe it's important to let our viewers know that no one's life or relationship is perfect. I frequently hear from people thanking me for sharing my story because they share similar experiences and have felt shame or embarrassment. They feel they have no one to talk to about their experiences, so seeing someone on TV openly talk about their relationship issues and struggles gives them hope and comfort.
"I have no regrets at all. I believe it's important to let our viewers know that no one's life or relationship is perfect."
BET: Your relationship has been a hot topic this season. How do you cope with the controversy surrounding your relationship with Juan?
RD: Unfortunately, being heavily scrutinized comes with the territory of being on reality TV. However, I do a great job blocking out the negative noise, especially from people who truly don't know us and don't share the same experiences and values.
BET: What's the one thing you love the most about Juan?
I love Juan's passion for everything he does and cares about—his family, his career, his hobbies, etc. I know it may not come across on screen, but Juan has an infectious energy that can make anyone feel great about themselves.
BET: How do you both plan on celebrating Valentine's Day this year?
RD: Since Juan is in the middle of basketball season right now, we will keep it simple and go out to dinner on Valentine's Day and probably catch up on the shows that we are watching together.
BET: What's your biggest goal in 2023?
RD: My biggest goal in 2023 is to expand and grow both of my businesses. I have so much unmet potential with Embellished that I need to tap into. Gizelle and I are also working on some fun projects centered around our Reasonably Shady podcast.
BET: What's next for the Dixon family?
RD: It's only up from here for us! Our boys are close to high school age, so I want to spend as much quality time with them before they are off to college. I'm also excited to see how they will develop and evolve into amazing young men. 
Both Juan and I have so much potential with our careers and will continue to support and push one another to be great. And we are more focused on spending quality time with our family, extended family, close friends, and loved ones. Since moving into our new house, we entertain quite a bit and really cherish being able to bring our loved ones together.
Editor's Note: This story has been edited and condensed for clarity.