Real Talk With Robyn Dixon: Love, Friendship, Motherhood, And Planning A Wedding In 2022 [EXCLUSIVE]
'The Real Housewives of Potomac' star sat down with BET.com to answer fans' biggest questions about her personal life. Let's just say we love her even more!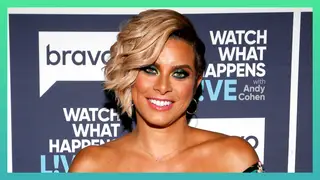 Robyn Dixon has a lot to celebrate in 2022! Besides wrapping up yet another memorable season of The Real Housewives of Potomac, the mother-of-two is making bank with the successful launch of Embellished, a lifestyle brand that specializes in satin-lined hats that beautifully combats "bad hair days."
To top her blessings in 2021, Dixon and her family—fiancé Juan Dixon and their sons, Corey and Carter— recently moved into the home they personally customized from the ground up. Talk about goals! 
Full of good vibes and refreshing humor, the lighthearted and multi-talented beauty recently took time out of her busy schedule to get real with BET about everything from motherhood and friendship to self-care and wellness in the new year.
Keep scrolling to read the highlights from the Real Housewives of Potomac star's interview with BET Lifestyle. Below, she answers her fans most captivating questions about a wide range of topics that includes details about her upcoming wedding and the inspiration behind her recent money moves.
The Feeling Of Moving Into A New Home
"It's not my dream home, just yet. Honestly, it was just about finding a functional home where I didn't have to squeeze everything into one space. I'm so excited that I have a nice big storage room. It's the little simple things in life! You think you gotta have the hardwood floors and metal railings. I'm like, no, I need a big ole storage room."
"Right now, I'm tricking out my family room with my awesome interior designer, Ajia Monét of Ablige Interior Design Group. She did my second townhouse and I cannot wait for the project to be finished. It is going to be so gorgeous! She has such a great eye."
The Inspiration Behind Her Successful Brand, Embellished
"When I cut my hair really short, it was the first time. I quickly learned that short haircuts are really high maintenance. You can't just slick it back in a bun and keep it moving. So, I found myself looking a hot mess…a lot.
"It was really created out of necessity for myself. I just needed something to wear so I could go to the grocery store, but I didn't really see any hats that didn't rep a sports team or something. I wanted a cute hat that also protected my hair and smoothed it down while I was wearing it. I wanted to feel like I was wearing a scarf on my head.
"I didn't think of Embellished as a business at first, but it has been so much fun. It has been such a blessing to see the response and growth. I'm just excited to try to continue to grow it and do more."
The Biggest Business Lesson She's Learned As A Small Business Owner
"It can sometimes get frustrating or discouraging when you receive a complaint from a customer. [I learned] that instead of looking at it as something to discourage you, look at it as a lesson. Learn from it. Think: How can I make sure this doesn't happen again?"
The Importance Of Having Family Support
"A support system is so important. Juan sees me work, and just to hear him say that he's proud of me, it's really encouraging! We've been together forever. When he was a star basketball player, I was always the one that was cheering him on. Now he's encouraging me, which is so important.
"My mom is also a huge support system for me. She helps me with my business and with the kids. Anything I need, she'll drop what she's doing. It's such a blessing to just have people around you that will drop what they're doing, just so that you can continue to be on your grind."
The Reason She's Rethinking Of Her Wedding Plans
"We still do not have a date, but honestly, I've kind of shifted the type and scope of wedding that I want. I really think that I could plan something [myself].
"It's going to be small in scale to the point where I could plan it in a few weeks. I really wanted a destination wedding at first, but it is our second wedding. We already had a huge 400 person wedding.
"We just moved into a new house, we're furnishing the house, and I'm probably going to be sending both of my kids to private school next year. We're trying to be smart and not really spend a ton of money on what we don't really need to. When you go through what I've been through financially, you don't ever want to be back there.
"Once Juan's basketball season is over, which will be like the middle of March or so, we'll have something on the books."
The Ideal Date Night
"The perfect date night for us is a nice dinner. We really don't get that much free time, so that's pretty much the extent of it. I love to go out to a nice restaurant and enjoy wine and good seafood. We do that as often as we can."
The Perks Of Being A 'Boy Mom'
"I love being a 'boy mom.' I love it so much. My boys are so fun. I'm like their homie. They tell me that I'm the cool mom!
"I grew up with a brother. I also dated Juan in high school and all through college, so I was always around him and his teammates. I also had my brother-in-law and Juan's cousin that used to live with us. Like, I've just always been surrounded by guys, so I feel like being a boy mom was a perfect thing for me. I almost feel like I would probably be a little too tough for a girl. You know, guys, they can laugh and joke and crack on each other. They're not going to be all sensitive. I feel like if I had a girl, I'd be making her cry like every day.
"Juan wants a girl, and I think a girl would be lovely for him. It would soften him a lot because he's a tough, tough cookie. But yeah, boys are so fun and so easy. My boys are awesome. They're a lot of fun."
The Tea On Her Friendship With RHOP Co-Star And 'Reasonably Shady' Talk Show Co-Host, Gizelle Bryant
"We talk every day! We just like to laugh, joke, and have fun.
"It's so funny. Like we're very much alike, but then we have some strong differences too. We don't take ourselves too seriously, we're shady, and we're also pretty thick-skinned. We differ because she kind of jumps to conclusions and I kind of like to sit back, assess, and look at things differently. That's such a nice balance and creates conversation for friends. The great thing is neither one of us gets offended when we don't see each other's point of view. It's a great friendship.
"Working together on the 'Reasonably Shady' podcast is so fun. It's really cool because we were already super close, but now we're working together, seeing each other more often, and collaborating. We are learning more about each other on the podcast. It's made our friendship stronger.
On Self-Care
"I love to do self-treatments at home. I do my own waxing. I paint my own nails. I attempt to do my own hair. I do body scrubs and sheet masks. I'm very into at-home maintenance, it's very therapeutic for me—especially in a house full of men! It's like they're playing video games and being loud and rowdy, while I have a sheet mask on my face and I'm painting my nails. I make sure to get that 'me time' in.
"I need to get back into a nice fitness regimen—that's the hard part. It's like, do I feel like sweating my hair out?"
** Editor's Note: This interview has been edited and condensed for clarity.