Michelle Obama Poised to 'Transform The Entire Food Industry' with PLEZi Nutrition
Our 'Forever FLOTUS' is launching a new business venture focused on encouraging healthy eating.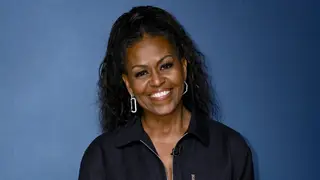 Former First Lady Michelle Obama has always been focused on helping kids have healthy lifestyles. While in the White House, she launched "Let's Move!," a national campaign to reduce childhood obesity and help children have healthier lifestyles. Enlisting support from artists, Obama got kids to play and exercise. She also created initiatives to make school lunches healthier.
Now, our Forever FLOTUS is launching a business venture with the same goals in mind. PLEZi Nutrition — a food and beverage company for children.
"When my girls were younger, no choice felt more important than the quality of the food and drinks I gave them. I constantly found myself wishing there were more healthy options available for moms like me. That's a big part of the reason why I worked so hard as First Lady to help kids and families eat better and lead healthier lives," she wrote in her statement announcing the venture.
"We made some incredible progress during those years, but today, our kids continue to face a generational health crisis. There's a lot of work left to do."
"So I've learned that on this issue, if you want to change the game, you can't just work from the outside," Obama, who is the co-founder and strategic partner, shared on the website. "You've got to get inside. You've got to find ways to change the food and beverage industry itself. So that's exactly what I'm doing."
She continued, "I'm proud to introduce you to a new company called PLEZi Nutrition. We're hoping not just to provide healthy and delicious drinks and snacks for kids, but to jumpstart a race to the top that will transform the entire food industry."
According to the company's website, its mission is to disrupt the marketing of food and beverages to kids.
AfroTech notes that the first product is PLEZi, a drink for children ages six through 12. It comes in the flavors tropical punch, orange smash, sour apple, and blueberry blast. It serves as an alternative to juice with high sweetness as it has less sugar and includes fiber and potassium.
Also, 10% of profits from PLEZi Nutrition go toward the movement of promoting kids' health.
"Make no mistake, water and milk are the best options for your kids," Mrs. Obama writes, "And kids shouldn't be regularly drinking anything other than water or milk until they're at least five years old. But once kids become school-aged, drinking only water and milk isn't a reality. Nearly two-thirds of young people are consuming sugary drinks on any given day."
She calls PLEZi a "better option" and invites parents to build a "healthier generation of children."