The Resurrection Of Kendrick Lamar: How Love Impacted the 2021 Day N Vegas Festival
The good kid from Compton took attendees on an emotional rollercoaster during his return to the live stage.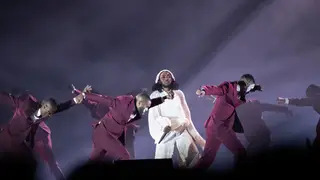 Just a few minutes into walking onto the Day N Vegas festival grounds, you could instantly see how much the Astroworld tragedy was at the forefront of everyone's mind. From the trio of police helicopters hovering overhead to the two-factor security check-in for media and general admission, you felt like you had to keep your head on a swivel to keep up with the tension that was in the air.

The three-day lineup was stocked with superstars and rising talent, as headliners Kendrick Lamar, Post Malone (who replaced Travis Scott after the crowd-crush disaster), and Tyler, the Creator, were billed for the first event in Las Vegas since the pandemic gripped the country. Day N Vegas, from Coachella promoters Goldenvoice and AEG, opened its doors just a week after 10 fans were killed and hundreds more were injured after a disastrous crowd surge that has everyone in a state of shock and awareness.
Throughout the weekend, artists were extra vigilant in ensuring everyone in attendance was safe and at ease. On Friday, Dreamville's Bas saw a fan in some discomfort near the front of the main stage and paused his set for 30 seconds to let the fan catch their breath and make their way to the open space. "Cut the music. You all good over there?" he asked. "We're gonna let security do what they do. During the Sunday show, stagehands and the DJ for Tyler's Call Me If You Get Lost stage show worked in unison to direct the crowd safely to make room for one another. "My heart goes out to everybody affected," singer-songwriter Lucky Daye told BET.com. "We've got to do better, collective. Love, so much love to everyone impacted."

It helped that the multiple stages were appropriately spaced apart and that medical staff were readily walking around.

Speaking with a few security staff members under the condition of anonymity during the first day of the concert, it was said that there weren't going to be any official statements to come out regarding Day N Vegas' updated safety protocols. It was good to see how serious they were in screening for proof of vaccination, and how many masks were worn by concert-goers, staff members, and artists, respectively. Between sets throughout the weekend, messages were delivered on large screens, encouraging attendees to speak up if they saw anyone in distress.
Acts from the raucous-inducing (Rico Nasty, Lil Uzi Vert, Flatbush Zombies) to the sensually serene (Jazmine Sullivan, Lucky Daye) to the upcoming (Khari, Baby Tate) had fans hyped in attendance, but it was apparent that the Odd Future co-founder and Pulitizer Kenny were the marquee acts that thousands had camped out to see. "I've been a day one since day one," said Liana Marts, an attendee visiting from San Diego. "I missed Kenny in 2019, and I wasn't going to miss him twice!"

Indeed, this would mark the reclusive rapper's first performance in two years, and a chance to hear new music, as records with his cousin (and Vegas "hometown hero") Baby Keem — "family ties" and "range brothers," respectively — mark new verses since DAMN.
After releasing a revealing letter via his oklama.com in September, Lamar shares that his next album will be his last on TDE (Top Dawg Entertainment), the Las Vegas event saw him celebrating the 10th anniversary of Section.80 with a retrospective look at his award-winning and history-defining four-album run.

With the crowd ramped up, it felt as if thousands of disjointed voices quickly morphed into unison as chants of Kendrick Lamar's name led to one of the most imaginative and disruptive performances from the good kid from Compton, Calif. Time has been good to the pride of Hub City. His hair grew considerably longer since the last time we saw him in the flesh, and his all-white yarn and fringed outfit shows he has come a long way from his Deadline Limited and Can't Buy Respect-inspired wares. 
RELATED: The Sound Of Crenshaw — Terrace Martin Shares Never Before Told Stories Behind 'Drones'

As promised, "from Section.80 to DAMN." served as a theatrical exhibition of each era of his dominant artistry, starting with the seldom-performed "F**k Your Ethnicity." A group of men who looked like a mob of young El Hajj-Maliks, wearing white face paint, marched in tandem and Lamar stood amongst them as if he was the angel on their shoulders guiding them through the travails of America uniquely experienced by Black men. There were a host of deep cuts including "A.D.H.D.," "Hol' Up," "Ronald Reagan Era (His Evils)," and "Chapter Ten," the latter of which had never been performed before.
Lamar didn't disappoint throughout the show, demonstrating just how impactful his decade was on West Coast hip hop and the Black community, with no backing vocals hindering his booming bravado to be heard by the giant Day N Vegas crowd. During the set's progression, a big screen message would set the theme before delving into each album. Section.80 was a "prelude," while good kid, m.A.A.d city was "the life and times of Compton," and To Pimp A Butterfly was about him "expressing himself" unlike he had ever tried before.

Interspersed into the show was an array of theatrics that showed Lamar took notes from the likes of Beyoncé, Solange, and yes, Tyler, the Creator.

From the legion of Malcolm Xs to the bevy of Black hiplet dancers to a collection of schoolchildren, concert-goers tried to capture every moment, unsure of the next time the pgLang co-founder will make his next appearance. With the stage completely owned, oklama left the door open for some new music, which had as much anticipation as a post-credit scene from a Marvel blockbuster.
Upon hearing those marching horns, the two relatives performed "family ties" and "range brothers," delivering Jadakiss and Styles P-esque back-and-forths raps that prompted enjoyable refrains of "top o' the morning" and "let's get this s**t."
The second post-credit moment came after Keem and Lemar finished demolishing the stage only to welcome all the players from the 90-minute celebration as Lamar performed, "Sing About Me, I'm Dying of Thirst." Sitting amongst a sea of Black beauty and strength, the group signified just how deeply love has impacted his masterworks of art.
Those elements carried over when Tyler, the Creator closed out the final performance at Day N Vegas festival with his own moshpit starting bops. Drawing out a similarly large crowd, the Golf Wang creator made a solid reach for the bar established by Lamar and wasn't off despite his set running similar to what fans saw at Outside Lands a few weeks prior—big boat, luxury bags, and all. Offsetting the retrospective vibes with a barrage of lyrics, fury, style, and funny, Tyler, the Creator's day three night brought much-needed attention to Day N Vegas, which could eventually extend to two weekends thanks to the two megastars who book-ended its 2021 edition.
---
Kevin L. Clark is a screenwriter and entertainment director for BET Digital, who covers the intersection of music, film, pop culture, and social justice. Follow him on Twitter @KevitoClark.