That Was Quick: Khloé Reportedly Just Made a Major Move With Her Baller Bae
Did the couple take a huge step?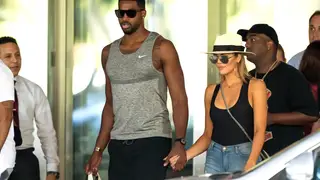 Khloé Kardashian has reportedly taken her romance with Cleveland Cavaliers forward Tristan Thompson to the next level as the two are rumored to be moving in together.
According to OK! Magazine, Khloé has already begun moving some of her things to his place in Ohio since "she plans to keep flying back and forth during the season."
Their relationship is reportedly air tight right now as they've apparently made it official.
"There is a lot of chemistry between the two of them and they are happy together," an insider told the Daily Mail. "She's even gotten close with a few of his friends and they all hang out sometimes. Khloé hasn't had this much fun with someone in a while."
Khloé may be happily dating Tristan Thompson now, but catch up on her summer fling with a hot R&B star with BET Breaks above.