#Unboxed Vol. 26: Sarz Is Stepping Into The Forefront After Global Success 'Monalisa' Accomplished
The Nigerian producer is slated to drop his debut solo album after creating hits for Wizkid, Skepta, and many others.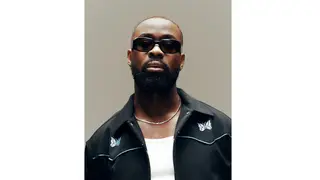 Sarz has taken the long, rewarding road during his music journey, but now, he's ready to diverge in a major way.
The Benin City, Nigeria native has been busy as a producer for other artists for well over a decade, with credits including Wizkid, Skepta, Chris Brown, Tiwa Savage, and many others. That's also not to mention his mega-hit "Monalisa," which celebrated its 2-year anniversary last week and has attained hundreds of millions of streams since its release.
It's Sarz' humble beginnings, though, that helped ground him. As a resident of Lagos for years now, some of his biggest hits were ones created within his residency. He says his story isn't necessarily vastly different from other African artists who mixed the inspiration of their native countries' culture with their musical prowess to achieve global recognition. Still, he notes that the phenomenon's commonality is nothing less than encouraging.
"You can produce a song in the comfort of your room and you never know. It might be like your next viral song, and you can make residual income off of that," he explained during a recent interview with BET. "So I'm really happy that this is happening and I'm also still a part of the conversation now."
Part of Sarz's transition from within comes from the initial interest in being a beatmaker to becoming a producer, where he instructs artists to do things a certain way rather than simply providing the instrumentals.
"That's the biggest thing that's changed," he says. "Just being very open-minded to understanding people and knowing how to communicate with people because I think that goes a long way in music.
"If you're taking it in from an ego perspective, you look at it like, I don't want to work with this guy because he doesn't like what I'm doing; You need to put your ego outside the door before you walk in the studio and work with anyone."
Part of Sarz's growth as a producer has also made him look at himself as a teacher. Not only does he try to help the artists he works with understand how everything is supposed to come out in post-production, but he also "push it to whatever limit" they agree upon when a track is coming to fruition.
He imparts these lessons through his Sarz Academy Foundation, a non-profit organization that develops emerging talents into household names. Artists who have surfaced after going through the foundation include a variety of Afrobeats prodigies, including Dunnie, Ppriime, Tempo, and STGprodigy, who have made careers for themselves in their own rights.
The first taste of Sarz at the helm of his own project creation, though, is giving us "Yo FAM!" – an Afrobeats/EDM fusion that is the product of a collaboration with dubstep kingpin Skrillex and Nigerian singer/songwriter Crayon. It's a fascinating combination of sounds that, on the surface, one may think don't fit together but do. Sarz says the collaboration between him and Skrillex is just one of many, but he's decided to drop the first.
"We've been friends for a long time and we have so much music," he explains. "I feel like it's time to at least put that energy out there and for us to create new fans from merging both worlds together."
The song is an extension of Sarz's debut LP. Slated for an early 2024 release, he says that project will, like much of his previous music, have an Afrobeats base to it but touch other genres as well, similar to the spirit of "YO FAM!"
"It's probably going to be my best work yet. It's my first solo project. I've worked on other projects with different artists, but this one is just me, and it's really exciting," he details. "I think it's really going to open people to the world and how they can consume Afrobeats in ways they haven't before."
Overall, Sarz says that he's grown as much personally as he has musically and that his long-winding journey has delivered him to this moment – one that has exemplified success on so many levels. He's excited for fans to hear his debut LP, which provides an opportunity to start on an exciting new path.
"The journey of making this music is the destination for me. So I'm already happy with the fact that I could do it and feel content with the outcome – even before a song comes out," he notes. "I don't feel any pressure or have any expectations on how well a song is going to do or all those metrics that you should care about as an artist on a record. It's just really free, man and that's my mental space right now."
Listen to Sarz's latest single, "YO FAM!" below.