Usher Reveals Reason Why He Won't Participate In A Verzuz Battle: "Nobody In The World Would Want Smoke With Their Songs"
The R&B veteran has recently extended his Las Vegas Residency With 25 New Dates.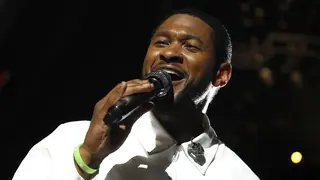 Don't bank on Usher participating in a Verzuz battle, as the R&B veteran shared on People Every Day podcast, sharing how nobody would "want the smoke" with him going hit for hit.
"I think if you ever came to my show, you would understand that I don't even think a Verzuz could handle all of the songs that I have to be honest," the 'Confessions' singer told host Janine Rubenstein.
"It's like, I could do it by myself. But I don't wanna do that. That's not the purpose of Verzuz, me versus me. I think it's great. It's great to celebrate music. But the appreciation of it starts with understanding what it is and how long it has taken to do this legacy. And if you compare it, what are you comparing it to? Are you comparing it to itself?"
The actor continued, saying, "I'm a different animal, man. I'm cut from a way different cloth, man. And when you put those songs on, I'm telling you, I don't think anybody in the world would want smoke with their songs."
The 'Yeah' singer has extended his residency with 25 new dates. The musician is set to be back on stage starting on March 3, 2023, and wrapping on July 15, 2023. He also tells the host how performing at his Las Vegas residency fits his lifestyle now.
"Having an audience come to you is always great," he expressed.
"I love the fact that I've been able to really celebrate all of the years of my music and see a very mixed, eclectic crowd of people. But I think, more than anything, the fact that it fits my lifestyle. I've been able to still focus on the things that I love, that are creative, that are kind of ancillary to what I do in music. Whether it's in film or rather in production or working with other artists and still have family time, but yet still do what I love, which is performing.
You can listen to the episode here.
You can also grab your tickets for the new dates here.