Usher's Las Vegas Residency Is One You Don't Want To Miss
Join BET.com on the ground to celebrate the 'Usher x Rémy Martin 1738: A Taste of Passion' global campaign and his epic residency performance.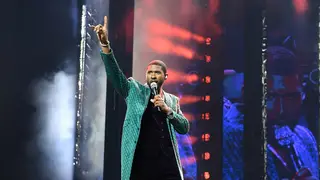 To many of us, Usher Raymond is the King of R&B, especially if you're a 90s baby! As a SUPER fan of the Grammy award-winning singer, when I got the surprise invitation to join him on behalf of Rémy Martin at his extended Las Vegas residency, it was no question that I had to be there.
Now, what was so special about this trip was that Usher and the cognac brand teamed up for the "Usher x Rémy Martin 1738: A Taste of Passion" global campaign, which launched in July with a limited-edition bottle and NFT.
Unveiling itself on the direct-to-consumer NFT marketplace BlockBar.com, the reimagined black bottle with hints of striking colors was created by blending the "My Way" artist's voice with A.I. technology. The result was sound waves that were the blueprint of the label, that graced just 25 bottles of the rich cognac retailer.
Available for $500, the bottles sold out in a blink of an eye (literally) and just a handful of fans who now own the NFT can decide to keep the collectible, re-sell it or send it as a gift on Block Bar's marketplace or wait until October to redeem the non-fungible token for the physical bottle.
To celebrate the release of the 25th anniversary of Usher's second studio album "My Way" and his Rémy Martin Campaign, the ultra-exclusive celebration would span over the course of two days and BET.com was a part of the ultimate Vegas trip from sun up to sun down on the sunset strip, here's our behind-the-scenes virtual diary of what went down in Sin City!
Thursday, July 28, 2022 | Daytime
After landing in Las Vegas, I was picked up in a Mercedes Benz Sprinter, decked out with mood lighting, as I headed to the Encore Hotel at Wynn Las Vegas to meet the rest of the party. While we waited for our rooms to be ready, we sipped on Rémy Sidecar's and snacked on light bites, before being handed our room cards to head upstairs to take some time to ourselves before dinner and an evening of dancing!
Thursday, July 28, 2022 | Nighttime
As the clock struck 8:45 pm, I headed downstairs into the lobby to meet the rest of the crew for dinner, to my surprise I found myself shaking hands with R&B singer Sevyn Streeter, actor and son of Diana Ross, Evan Ross, who were among the guests who would be joining us for the rest of the early weekend.
From there, we all headed to Delilahs for the Taste of Passion dinner and while there were no pictures or videos allowed in the main dining room and bar, just know that it was giving Great Gatsby! For our group, we were escorted into a private dining room where we were served more Rémy Martin libations as we mixed and mingled. My beverage of choice for the evening was the Rémy Ur Way which was a blend of Rémy Martin 1738 Accord Royal, lemon juice, simple syrup and sparkling water — chef's kiss! Other drink options included the classic Rémy Sidecar and The Rémy Roller.
Dinner started around 10:30 p.m., where I coincidentally sat at the head of one of the long tables, right before our food courses were served, to our surprise, Usher joined us for dinner!
Let me catch my breath!!!
We greeted him with a round of applause as he took a moment to share the importance of the collaboration with Rémy Martin, the essence and history of cognac and the A.I. technology to create the bottle. (See me pictured in the back with a smile on my face :) )
Now to the dinner, we all indulged in pastrami wedge salads, king crab Cesar salads, burrata, Panzanella for our starters; chicken and dumplings, alpine king salmon, Angus steak filets for our mains; macaroni gratineé and baby corn elote for our sides and gooey butter cake for dessert!
Stuffed from all of the delicious courses, Usher made his way to my side of the table to strike up a conversation, where we were in shock and awe that we were in the presence of a legend! To set the tone, he asked us where we all were coming from, "I currently live in New York City, by way of Texas," I exclaimed.
In the middle of talking about the new age of social media, Usher ordered a Rémy Ur Way, before he sat it down on the table to continue his comments on the advantages of using the various platforms. He was later pulled away to snap some photos and greet the others in attendance but left his beverage, which I chose to keep cool until he came back, LOL! He later gave me the option to keep it if I wanted.
As dinner wrapped, the crew (excluding Usher) all headed out for a Vegas nightlife adventure.
Friday, July 29, 2022 | Daytime
Good morning! Or is it the afternoon? What a night in Vegas! For today's festivities, we are all meeting at our private cabana bungalow at the hotel! It is HOT (we are Nevada baby!) but the water, and endless amount of food, and Rémy Martin, of course, are perfect distractions.
To kick off the shindig, Terrence J has arrived, and comes full of laughs and with a special toast, cheers!
The heat ended up getting the best of me, so I said my goodbyes and headed back to my room to take a nap, eat dinner and get ready for the main event.
Friday, July 29, 2022 | Nighttime | Usher "My Way" Residency Experience
At 8:00 pm on the dot, the crew splits up in two sprinter vans to head to Dolby Live @ Park MGM Las Vegas. I casually sit next to the entertainment system so I can play DJ for the quick 15-minute drive to the venue, I queue up all of Usher's greatest hits, "My Way," "You Make Me Wanna," "U Don't Have to Call," and more! Note: These were all performed live by Usher hours later.
We were whisked away through a private backstage entrance and up the stairs into a room to relax, sip on more Rémy libations and take photos in front of an Usher money wall before being walked to our V.I.P section just feet from the main stage.
As the lights went low, the opening dancing scene from Usher's background dancers set the mood and the two-hour live event featured several costume changes, a live horn set, a "Bad Girl" P-Valley-esque pole dancing performance, and Usher's highly-sought out Flipper's Roller Boogie roller skating moves to his latest song feature with City Girls, "Good Love". With other classic hit songs like "Caught up," "My Boo," "U Remind Me," "Let It Burn," "Climax," "OMG," "Yeah!," "Confessions," "Nice & Slow," "Hey Daddy," and more the jam-packed arena was on their feet belting every song word for word.
With iconic music executive LA Reid sitting a few feet down to my right and veteran music producer Jermaine Dupri sitting right behind me, believe me when I tell you GREATNESS was in the building!
Wrapping up the show, Usher was moved to tears by his performance after receiving a standing ovation.
"In this music that I've been making there's been a lot of hardship, difficult times, celebrations and I really have to show appreciation for two gentlemen who are in the house tonight," Usher said as the main venue lights turned. "L.A. Reid for signing me and as we tip-toe through this year and make our way to what will be the 25th anniversary of "My Way," I want to give a lot of love and respect to my brother Don Chi-Chi, classic JD, Jermaine Dupri."
"I'm always singing to you but I just want to talk to you tonight, if that's alright," Usher asked the crowd before delivering candid remarks about his journey through manhood, love and relationships. "There's no easy fix for this thing called man. You gotta go through sh*t where sometimes you make it through it and sometimes you manage to learn from mistakes. So for those relationships that grew from all of these songs we made, I really thank God for allowing me to be the vessel to help you make it through your hard times. He chose me to be able to talk to you through these songs."
To our surprise, Usher decided to give a preview of a rough draft track that he had been working on in the studio that he might turn into a song. (*Use your imagination here*) With stand-out lyrics like "I ain't gon' hold you," "I'm dressed in all Black like it's a funeral, no Boyz II Men but it is the end of the road," and "I must admit I must have cried a billion times," the emotions that might appear in a new Usher song might have us grabbing some tissues.
"Thank you for listening," Usher said peacefully walking off the stage.