Usher Will Headline 2024 Super Bowl Halftime Show
The legendary performer will take the stage on Feb. 11 in Las Vegas.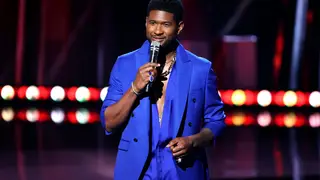 It's official! Usher will be the headline performer for the 2024 Super Bowl. The Atlanta icon expressed his excitement in a statement.
"It's an honor of a lifetime to finally check a Super Bowl performance off my bucket list. I can't wait to bring the world a show unlike anything else they've seen from me before," Usher said in a statement. "Thank you to the fans and everyone who made this opportunity happen. I'll see you real soon."
"Usher is an icon whose music has left an indelible mark on the cultural landscape throughout his career, we couldn't be more excited to have him headline this year's Apple Music Super Bowl Halftime Show," said Seth Dudowsky, the head of music for the NFL. "We look forward to working with Usher, Roc Nation and Apple Music to bring fans another Halftime Show for the history books."
This will be the fifth year that Roc Nation produces the halftime show. The popular management company served up performances by Shakira and Jennifer Lopez in 2020, The Weeknd in 2021, a hip-hop showcase anchored by Dr. Dre, Snoop Dogg, Eminem, Mary J. Blige and Kendrick Lamar in 2022 and Rihanna – reportedly the most-watched halftime show of all time – in 2023.
"The Apple Music Super Bowl Halftime Show is one of the most highly anticipated music events of the year and we're excited to bring this legendary show to fans all over the world in Spatial Audio, along with tons of exclusive videos, interviews, playlists and so much more across Apple Music," said Oliver Schusser, vice president of Apple Music, Apple TV+, Sports and Beats.
"We are so proud of what we were able to accomplish together with the NFL and Roc Nation last year and now with the insanely talented Usher set to take the stage we're looking forward to another incredible Halftime Show from one of the world's all-time greatest performers."
The show will cap off a banner year for Usher: He's headlining the popular "My Way: The Las Vegas Residency," which was recently extended to December. The singer kicks off a two-week, four-show sting in Paris with Rendez-Vous à Paris on Sunday (Sept. 24).