A New Michael Bloomberg Gaffe Surfaces; Blames Redlining End For 2008 Recession
His remarks on discriminatory housing practice comes back to haunt him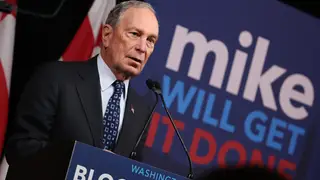 Former New York City Mayor Michael Bloomberg is in hot water again after another uncomfortable video was released on Wednesday where he can be heard blaming the 2008 economic downturn on the end of redlining housing policies. 
During a forum at Georgetown University in September 2008, Bloomberg, who is currently a Democratic candidate for president, said that he believes the recession was a direct result of redlining, what many consider to be a discriminatory housing practice, according to the Associated Press. 
"It all started back when there was a lot of pressure on banks to make loans to everyone," Bloomberg said at a forum. "Redlining, if you remember, was the term where banks took whole neighborhoods and said, 'People in these neighborhoods are poor, they're not going to be able to pay off their mortgages, tell your salesmen don't go into those areas.'"
He continued: "And then Congress got involved ― local elected officials, as well ― and said, 'Oh that's not fair, these people should be able to get credit.' And once you started pushing in that direction, banks started making more and more loans where the credit of the person buying the house wasn't as good as you would like."
Redlining is when banks systematically refuse to lend money or extend credit to Black and Latino families who are either first time homeowners or seeking to keep their homes. In the past, lenders would literally draw a red line around certain neighborhoods on a map where they wanted only people of a certain race or socioeconomic background to reside. 
While many experts acknowledge a correlation between the 2008 recession and the number of borrowers who were given "bad" loans who could not repay them, outrage comes from the belief that the billionaire businessman is seemingly blaming the victims instead of singling out the banks that perpetrated predatory lending practices. 
Former Housing and Urban Development (HUD) Secretary Julián Castro, who was once a candidate for President himself, took to Twitter to blast Bloomberg  saying, "Hey, @MikeBloomberg, have you apologized for this too? It's the least you can do. I hope you know how wrong you were. Everyone deserves #FairHousingopportunity."
The Bloomberg campaign issued a statement in response to the latest jarring comments that have resurfacing from his past. 
"Mike's saying that something bad - the financial crisis - followed something good, which is the fight against redlining he was part of as Mayor. Because he knows how important it is to keep people in their homes, Mike attacked predatory lending as Mayor and helped other cities craft innovative strategies to reduce evictions as a philanthropist," said Bloomberg campaign spokesperson, Stu Loeser.
"And Mike has detailed plans for how he will help a million more Black families buy a house, and counteract the effects of redlining and the subprime mortgage crisis as President. His plan will provide down-payment assistance, get millions recognized by credit scoring companies, enforce fair lending laws, reduce foreclosures and evictions, and increase the supply of affordable housing"
The statement further details how as mayor of New York City, Bloomberg took significant measures to prevent foreclosure and keep people in their homes as well as elements from his newly released national housing plan. It addresses the goal to create a path to homeownership for 1 million Black homeowners through down-payment assistance programs, fair lending laws, credit evaluation programs and an increase of affordable housing. 
Earlier this week, Bloomberg apologized (for the second time)  after an audio recording went public of him citing racially insensitive comments from 2015 about the NYPD's former stop and frisk policy. The audio has the former mayor supporting the practice that saw hundreds of thousands of mostly innocent Black and Latino men who were routinely held and questioned as a crime prevention tactic.
RELATED: Michael Bloomberg's 'Stop and Frisk' Audio Leak Puts Campaign In Hot Seat
Bloomberg is currently touring the South preparing for the South Carolina primary at the end of the month and focusing on swaying undecided Black voters. He will launch his "Mike for Black America" plan on Thursday.