NYC Hotel Where Black Teen Keyon Harrold Jr., Was Falsely Accused of Stealing Phone Sued By Family
The Arlo Hotel is charged in the suit with failing to prevent a white woman from racially profiling the 14-year-old.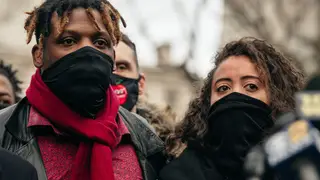 The family of a Black teenager who was accused of stealing a white woman's cellphone, only to have it turn up later, is filing suit against the hotel where the incident took place in December.
Keyon Harrold Sr., a Grammy-winning jazz trumpeter and father of Keyon Jr., 14, was with the teen in the lobby of the Arlo Hotel in New York on Dec. 26, when Miya Ponsetto, who was not a guest of the hotel, but had been earlier in the week, said that he took her cellphone. The hotel's manager also approached the boy asking him to see the phone, but he did not have it.
After an exchange that escalated when Ponsetto grabbed Keyon and attempted to search him for the phone before they were separated. Keyon Sr. used his own phone to record what happened. Later in the day, the phone was found by an Uber driver, and Ponsetto picked it up at the hotel. She later left New York for her home in California.
Editor's Note: Content below contains harsh language.
On Wednesday (March 24), Benjamin Crump, attorney for Harrold's family, announced that a lawsuit was filed against the Arlo Hotel because they feel the incident could have been de-escalated by the manager, but was not, resulting in racial profiling. Crump said the law obligated the Arlo's management team to protect Keyon, regardless of his racial background, while in the establishment,  but they failed to do so.
"What the Arlo Hotel did is simple, they violated the Human Rights Law of New York City,"  attorney  Paul Napoli, a co-counsel in the lawsuit, said at a Wednesday press conference. "This lawsuit is going to be a test of the strength of that law in New York City."
RELATED: Woman Refuses To Apologize For Falsely Accusing Jazz Trumpeter Keyon Harrold's Son Of Stealing Phone
On Jan. 7, Ponsetto was taken into custody on a fugitive warrant in Piru, Calif., and extradited back to New York on charges of attempted assault, attempted robbery, grand larceny, and child endangerment, CBS News reports. She has since returned to California under supervised release. She is also named as a defendant in the lawsuit.
At the press conference, Keyon Harrold Sr. played a short rendition of "This Land is Your Land, This Land is My Land" on his trumpet before expressing his frustration about what happened to his son.
"It could have been a lot worse," he said. "The idea that de-escalation did not exist is something that needs to be looked at.
"I spoke to the management at the Arlo Hotel that day, and you know what they told me?  "She was just having a bad day," he continued. "My son was targeted as a Black young man, and that needs to stop right now."
Keyon's mother, Grammy-nominated saxophonist Kat Rodriguez, echoed the same sentiment, also saying that the whole incident could have been avoided. "I've said it before, spoiled milk often turns into spilled blood," she said. "I didn't look to the person who attacked our son; I looked toward the place that was supposed to keep our son safe in their lobby."
Crump, who in the last year has represented the families of several African Americans who have been killed either by law enforcement or vigilantism, from George Floyd to Breonna Taylor to Ahmaud Arbery, said the case would  be a marker of how Blacks are treated.
"The societal implications are so serious because there are thousands of Black men who have been convicted from wrongful allegations of these Karens," he said. "If we don't use this as a teachable moment...how many times will it happen in the future in America?"