Ex-Minneapolis Police Officer Tou Thao Convicted Of Aiding George Floyd's Killing
He had previously been convicted in federal court of violating Floyd's civil rights.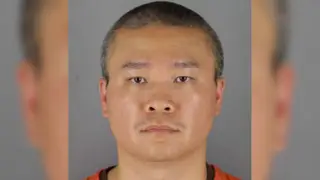 Former Minneapolis police officer Tou Thao, who kept bystanders at bay while Derek Chauvin knelt on George Floyd's neck for more than nine minutes during a fateful encounter in May 2020, was convicted of aiding and abetting second-degree manslaughter, reports CBS News.
In a 177-page decision released on Monday, Hennepin County, Minn., Judge Peter Cahill said that his ruling stemmed from transcripts from Chauvin's murder trial. During the trial, Thao testified that he acted as "a human traffic cone" controlling the crowd as the other officers restrained Floyd on the ground.
"Thao knew that this prone restraint was extremely dangerous because it can cause asphyxia— the inability to breathe—the exact condition Floyd repeatedly told the officers he was suffering," Cahill wrote in his decision. "Yet Thao made the conscious decision to aid that dangerous restraint: he actively encouraged the other three officers and assisted their crime by holding back concerned bystanders, declining to render medical aid to Floyd, not instructing any of the other three officers to render medical aid to Floyd, and not permitting any of the bystanders to render medical aid to Floyd, including the off-duty Minneapolis firefighter on the scene trained in CPR."
"In this case," Cahill added, "the evidence overwhelmingly proves that Tou Thao aided and abetted manslaughter in the second degree on May 25, 2020," writing earlier that, under Minnesota law, "a person is liable for aiding and abetting manslaughter in the second degree when he knowingly and intentionally aids a principal's grossly negligent act that results in a death."
Attorney Ben Crump along with co-counsel Antonio Romanucci and Jeff Storms issued a joint statement following Thao's conviction.
"The family of George Floyd is grateful for another measure of accountability for his death. Nearly three years after George was killed, the family and Minneapolis community continue to heal as the criminal justice system prevails," the statement read. "With each of these measures of justice, it is even more so demonstrated that police brutality is an illegal – and punishable –  act."
Of all the officers involved in Floyd's killing, Thao has never pleaded guilty to any charge and has vehemently maintained that he committed no crime during the fatal incident. After rejecting an initial plea deal, Thao said that if he pleaded guilty "it would be lying."
In April 2021, Chauvin was convicted on state charges of murder and manslaughter. He was sentenced to 22 1/2 years in prison.
Although Chauvin appealed the state conviction,  the Minnesota Court of Appeals upheld the decision in April 2023.  by the Minnesota Court of Appeals last month. In July 2022, he also received a sentence of 21 years on a federal conviction for violating Floyd's civil rights.

Thao was sentenced to 3.5 years in federal prison for civil rights violations in 2022. The other two officers at the scene, J. Alexander Keung and Thomas Lane, received three years and 3.5 years, respectively, in federal prison. Keung received 3.5 years in state prison after a guilty plea, and Lane received three years, both on the state charge of manslaughter.
All four former officers will serve their state and federal sentences concurrently.