Bun B's Son Tests Positive For Coronavirus And He Wants People To Take It Seriously
The Houston rap star took to Instagram to send a candid message to fans.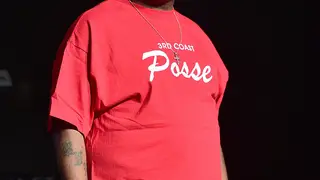 Rapper Bun B had a message for those who still don't think the coronavirus pandemic is a serious issue to be concerned about and it concerns his family. 
The Houston hip-hop superstar shared that he was on his way to a march with Trae the Truth and Mysone when he learned that his son, who just welcomed a daughter four days prior, tested positive for coronavirus.
"So many people wanna say that COVID-19 is fake news," he said on his Instagram page on Wednesday (June 24). "My son just tested positive. He has a four day old baby that my wife and I have to go get and bring to our home. I was on my way to join Trae the Truth and Mysonne at the Kentucky state capitol. Had to turn around to head back home. 

"Please stop playing with this virus y'all," he implored anyone reading his message. "I don't wanna lose my son, daughter-in-law, newest granddaughter or any of my other grandkids."

Since states started re-opening their economies over the past month, more and more people have been resuming life as usual, even though the number of confirmed coronavirus cases have been reportedly rising every day.  

Bun B's message comes amid reports that California, Texas, and Florida set a new record for the largest number of cases in a single day, according to the Washington Post. Texas Gov. Greg Abbott has since announced plans to halt re-opening the state, but, earlier this week, the Centers for Disease and Control (CDC) published a report anticipating that over 130,000 to 150,000 people will more than likely die from the coronavirus.

Read  Bun B's message in full below: