Laila Ali Posts A Photo Of Her Teenage Son: 'Looking At My Son Is Like Looking At My Father'
The proud mom posted the uncanny photo on Instagram.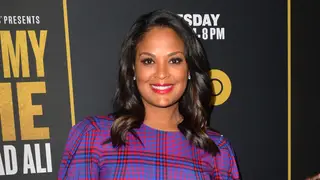 Laila Ali is reminded of her father every time she looks at her son! The retired boxer and TV personality recently took to Instagram with a heartwarming picture of her teenage son, along with a heartfelt message that gently reminds us that our loved ones are always with us even when they're resting in peace.
"Looking at my son is like looking at my father. He's mine, I see him every single day and it still gets me," the mother-of-two captioned the sweet image of her son laying on a pillow. "One of my many blessings."
In the photo, 14-year-old Curtis Muhammad Conway Jr. is the spitting image of his grandfather, the greatest boxing champion of all time Muhammad Ali.
FYI: Curtis Muhammad Conway Jr. is the son of Laila Ali and former NFL player Curtis Conway.