Kevin McCall Tried To Follow Eva Marcille's Fiancé On Instagram And Got An Unwelcome Surprise
Oop.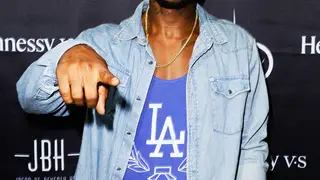 Kevin McCall's been shooting his shot at Eva Marcille recently and we're really here scratching our heads.
First, he accused his ex of practicing witchcraft around their daughter, then went super somber in tone after she became pregnant with her second child and first with current fiancé Michael Sterling.
Now, as mentioned, he's trying to get back with Marcille and Sterling's having none of it. Apparently, the "Deuces" singer got a new Instagram page and when he went to try to follow Michael, he was hit with the block. McCall's response was, of course, petty.
"Awe you big mad or little mad? Can't we all just get along and 'Politic' #KmComedy," he captioned under a screenshot of the blocked screen. He also wrote on the pic, "Can't we all just get along? I'm just the sexiest step dad in the world -- it's no biggie bro."
Looks like Kevin McCall is trying to be a third wheel in this situation with the other two looking to make him a unicycle. Good luck, Kev.