Apryl Jones Shares The X-Rated Reason She's Dating Lil Fizz
"Why y'all so mad? I'm getting the d**k I want."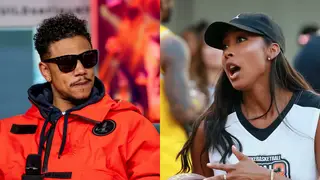 Apryl Jones and Lil' Fizz's relationship has been unfolding on the current season of Love & Hip Hop: Hollywood. Given their mutual histories with Omarion — Jones shares two children with the singer, and Fizz is his B2K band mate — fans of the show have not held back their opinions on the unexpected relationship.
Clapping back at their critics, Jones took to social media to explain why she and Fizz are a perfect match, and she did not withhold the X-rated details of their romance.
"Why y'all so mad? I'm getting the d**k I want. I love it, oh my God. It's the best d**k of my life," she said. "It really, genuinely is. I can't really be mad. I can't not be happy because I think that the happiness comes from being happy and y'all trying to really make me mad, but I don't know how to be mad. I'm not a mad person."
Take a look at the full clip, below:
Needless to say, Twitter is still not buying it. The majority of L&HH viewers are even accusing the model and her new man of being desperate and have actually been applauding the "Ice Box" singer for holding his tongue during this scandal: