Post Your Anti-Violence Mother's Day Messages
Tell BET and National Action Network how you plan to be a beacon of peace in your community.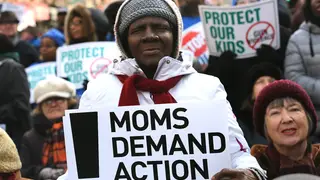 From donating to a local anti-violence organization to encouraging your local community center to provide extended hours for neighborhood young people or writing an op-ed article for your local paper, everyone can become an advocate for reducing violence in the community and promoting peace. 
According to a recent USA Today article, in 2011 (the last year for which the FBI has complete data) 1,668 blacks under the age of 22 were killed in this country. That's more than triple the 469 American servicemen and women killed in Afghanistan that year. In 2009, Black children and teenagers were just 15 percent of the nation's population but 45 percent of our young people were killed with guns.
Launched by BET Networks in partnership with the National Action Network, Mothers On a Mission: Against Urban Gun Violence seeks to reclaim the true meaning of Mother's Day by appealing to women throughout the world to unite for peace. As part the campaign, we want mothers and others touched by a mother's love to tell us how you plan to be a beacon of peace in your community.

(Photo: John Moore/Getty Images)

BET National News - Keep up to date with breaking news stories from around the nation, including headlines from the hip hop and entertainment world. Click here to subscribe to our newsletter.