In Eulogy, Al Sharpton Calls Dexter Wade's Death 'National Outrage'
An independent autopsy shows there's 'no excuse, not even incompetence' for the city's blunder, attorney Ben Crump says.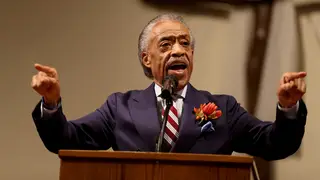 In his eulogy of Dexter Wade, the Rev. Al Sharpton raised questions based on new details a recent independent autopsy of Wade uncovered.
According to Jackson, Miss., officials, an off-duty police officer struck and killed Wade, 37, while he was walking along a six-lane highway in March. But they failed to notify Wade's family of his death for several months and buried him in a pauper cemetery near the Hinds County Penal Farm. 
Officials said they had trouble identifying Wade. 
However, the family's autopsy revealed a different set of facts that has fueled anger over how the city handled Wade's death.
"What happened to Dexter is a disgrace, a national outrage, and should be treated as such. It is time for the mayor and the city council to stand up for Dexter," Sharpton said Monday (Nov. 20) at the New Horizon Church International, according to the Hill.
"How do you explain how a young man ends up buried? The autopsy said that he had a state ID in his front pocket. He had his driver's license, yet you couldn't find his mother? You couldn't find some loved one? You let him lay in the morgue and buried him?"
Wade died on March 5. His mother reported him missing on March 14, but the police didn't notify her of his death until Aug. 24 and took her to his gravesite in early October. On Nov. 13, officials exhumed Wade and gave the remains to Wade's mother, Bettersten Wade. 
Preliminary findings released on Thursday (Nov. 16) from the family's autopsy found Wade's wallet in the front pocket of his jeans, which contained his state identification card and home address, local station WLBT reported. 
Wade suffered multiple blunt-force injuries to his skull, ribs and pelvis. Since officials failed to embalm him, Wade's body was severely decomposed.
"The fact that Dexter had a state identification card and several other identifying items shows us that there was a concerted effort to keep the truth and manner of his death from his family," civil rights attorney Benjamin Crump, who represents Wade's family, stated, according to WLBT.
"There is no excuse, not even incompetence, for not notifying a next of kin of an identified man's death."
Crump said that the police vehicle completely ran over Wade's body. In his eulogy, Sharpton said it didn't matter that a Black officer was behind the wheel.
"I don't care if he's Black or white," Sharpton said. "What he did is wrong, and they need to be called accountable. In fact, I'm more offended that he's Black because you wouldn't have done that to a young white man. You know better in Mississippi to hit a young White man and keep going and bury him in potter's field. You're going to learn you can't do that to this Black man."
NBC News previously reported that the county coroner's investigator LaGrand Elliot attempted but failed to reach Bettersten Wade based on information on a prescription drug bottle in Dexter Wade's pocket.
Why officials didn't look inside Dexter Wade's wallet for identification is unclear.
Elliot said he confirmed Wade's identification on March 9, when the state crime lab said his fingerprints matched those it had on file for Wade. He passed all the information he gathered to the Jackson Police Department's accident investigation unit in March to notify Wade's mother.
Jackson Mayor Chokwe Antar Lumumba has blamed miscommunication for not notifying Wade's family promptly, saying that "there was no malicious intent."
But the situation is complicated, leaving Bettersten Wade to wonder if her son's death and apparent coverup was "a vendetta."
NBC News reported that Wade's family is in the middle of a lawsuit involving the city over the police fatal beating of Bettersten Wade's brother in 2019. The city has denied the allegations, saying it isn't liable.