Apple's New iPhone 11 Series Design: You Won't Believe What Twitter Users Are Saying It Looks Like
We've gathered all the hilarious comments for your reading pleasure. You're welcome.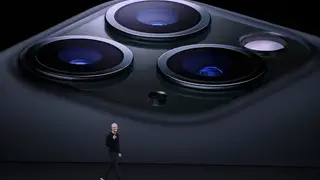 Debuted during Apple's annual fall event on Tuesday (Sept. 10), the new Apple iPhone 11 is already getting some seriously mixed reviews — especially due to its unusual design that features multiple camera lenses. 
Compared to everything from a stove top to a set of spider's eyes, potential buyers quickly jumped on Twitter to voice their opinion about the new additions to the iPhone family. Although the new technology may not be attractive, the iPhone 11 ($699+) boasts the ability to take slow-motion selfies, ultra-wide shots and capture great photos in extremely low lighting — all thanks to its three cameras (one in the front, and two rear cameras). 
For those looking for the "most sophisticated technology," the iPhone 11 Pro ($999+) and 11 Pro Max ($1,099+) may be a perfect fit with a whopping three rear cameras.
We wonder what these reactions mean for the success of the iPhone 11 series, which will be available for pre-order beginning this Friday (Sept. 13).
Is the new design (coco)nuts? Some Twitter users seem to think so...

Or Maybe it's just making them fidget a bit

Either way, it definitely has some potential buyers' spidey senses tingling...

And leaving many no choice but to cook up some serious jokes

other's complained it triggered their trypophobia – a phobia caused by seeing clusters of small holes or bumps