EXCLUSIVE: We Learned Nicole Ari Parker And Boris Kodjoe's Love Language—Here's What It Is!
The lovebirds, who recently celebrated their 17th wedding anniversary, chatted with BET Lifestyle.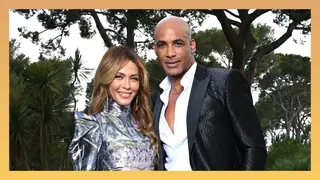 Actors Boris Kodjoe and Nicole Ari Parker love to travel the world together!
Fresh off a recent family excursion, the dynamic duo chatted with BET Lifestyle about their recent adventures around the globe, plus explained why they turn to the cleaning powers of Microban 24 and Bounty to stay safe while traveling.
"We started in May for our anniversary," Nicole told us about their romantic trip to Maldives. "We went for the first time. It was beautiful. It's exactly what you think. Warm blue water that's right outside your door. It's paradise."
The couple celebrated their 17th wedding anniversary with beachside views and plenty of time to reconnect at COMO Cocoa Island, a luxe private island in the Maldives. "Traveling is our love language," Boris shared. Nicole agreed, "Yeah, we do well."
While counting their blessings, the couple agreed that working together also plays a major role in keeping their chemistry strong both on screen and behind the camera. "When we work together, it's the best time," Boris explained. "It is also another love language that we've developed over 22 years."
"We met on a show," Nicole added. "That's a really great place for us."
While globetrotting, the busy couple trust travel-sized Microban 24 Multi-Purpose Cleaner and Bounty to clean high traffic areas in their hotel rooms. "I want to just put another little layer of protection that doesn't require a whole scrub down," Nicole told us about about how she uses the dynamic cleaning duo. "Let me deal with the doorknobs, the faucets, the coffee table, and the things on the nightstand. I can rest easy knowing that the products are doing what it says it's doing."
Of course, we couldn't end a conversation with the lovebirds without asking their biggest secret to keeping their relationship fresh and full of life.
Boris says, "Keep going deeper. Don't coast, always keep learning from each other and also from yourself. It makes the relationship deeper and more intimate."
Nicole agrees, reminding us all to count our blessings and take each "rough patch" as an opportunity to grow. 
Editor's Note: This story/interview has been edited and condensed for clarity.