Kangol Kid Updates Fans About Stage 4 Colon Cancer Diagnosis
He underwent surgery on Oct. 28.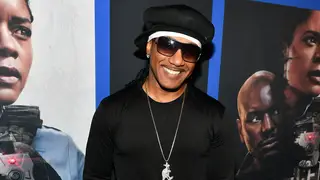 Hip-hop legend, Kangol Kid, has given his fans an update about his health after sharing early this year that he had been diagnosed with Stage 4 colon cancer.
According to HipHopDX, the New York rap legend took to his Instagram on Wednesday (Oct. 27) and shared that he had been hospitalized and was scheduled to undergo surgery on Thursday (Oct. 28).
"Please forgive me for not returning calls and more. Things have become, and are becoming a little more difficult than imagined. I've been admitted again for complications related to my condition," his account captioned, as he also called on support from all prayer warriors.
"Thank you to those who have been instrumental in my latest ordeal. Your actions have been well received and greatly appreciated. I am blessed to have you by my side through this. I love you all.."
A GoFundMe was also launched on behalf of the U.T.F.O. artist to help with medical costs following the surgery. So far, it has raised half of its $10,000 goal.
In March, Kangol spoke with Pix11 News to share an initial update with fans after undergoing his first surgery connected to his condition. At that time, 10 centimeters of his colon had been removed.
Kangol explained what led him to get a colonoscopy that would later evolve into a cancer diagnosis.
"There was definitely discomfort in the belly," he shared. "One of the signs you would see immediately is bleeding, and you'll notice this as you wipe or you'll see it in your stool, so I was definitely experiencing that. But what really set it off was, I'm in the comfort of my own room, and I had to pass gas, and it came out with a substance … it was bloody mucus."
The 55-year-old said he was in shock when he received the news that he had cancer.
"I didn't believe it," he said. "That's the last thing you want to hear. When those words were said to me, I fell out inside. I stood up after a while, spoke to my friends who kept my spirits up through all of this, and my mentality just changed, like, 'You gotta fight this.'"
The Centers of Disease Control and Prevention says that African-Americans are 20 percent more likely to be diagnosed with colon cancer than any other group of people and 40 percent more likely to die from the disease.