Watch: Tiny Caught on Tape Dancing With Floyd Mayweather
What will T.I. say?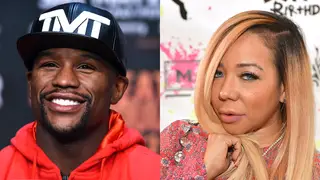 Sorry, folks. What happens in Vegas no longer stays in Vegas in the era of camera phones and social media.
Tiny Harris had to learn that lesson the hard way when video of her grinding up on Floyd Mayweather at Mariah Carey's Halloween party surfaced late last night. Must've made for a very awkward conversation with her husband, T.I.
Remember all that drama over the photo someone took of Tiny, Mimi and Floyd? Turns out there was way more to the story. Considering Floyd is Tip's mortal enemy and they've come to blows over this alleged love triangle, this is not a good look:
Tiny's got a lot of explaining to do.
Relive Tiny's drama with her daughter's stepmother on BET Breaks, above.