Rihanna Explains Why She Performed At Super Bowl Halftime Show After Declining In 2018 Over Kaepernick Protest
"I kind of kept putting off my answer," she told Vogue UK.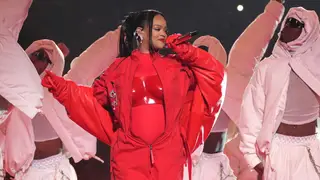 Rihanna provided an incredible Super Bowl LVII Halftime Show performance on Sunday (February 12), but according to the superstar singer, the decision to actually do the set came after some long deliberation.
During an interview with British Vogue published on Wednesday, RiRi explained the process of making her decision to take America's biggest musical stage.
"I was approached…" the singer told the publication, noting that the deadline to accept the gig passed before deciding she'd take on the performance. "But for this Super Bowl I was approached a few weeks before [the announcement] and I kind of kept putting off my answer."
Perhaps the foot dragging came, in part, due to Rihanna's solidarity with Colin Kaepernick, who was blackballed from the NFL after protesting the national anthem prior to football games. In 2018, she turned down the league's invitation to perform at its biggest game.
In 2019, Rihanna told US Vogue that she "couldn't be a sellout," adding, "There's things within that organization that I do not agree with at all, and I was not about to go and be of service to them in any way."
"There's still a lot of mending to be done in my eyes," she told Vogue UK in Wednesday's article, "but it's powerful to break those doors, and have representation at such a high, high level and a consistent level."
"Two Super Bowls back-to-back," she added, referring to last year's headliners, Dr. Dre, Snoop Dogg, Eminem, Mary J. Blige and Kendrick Lamar, as a major development since she turned down the NFL in 2018, "you know, representing the urban community, globally. It is powerful. It sends a really strong message."
Rihanna also explained that having a child changed her perspective: "Raising a young Black man is one of the scariest responsibilities in life," she said. "You're like, 'What am I leaving my kids to? This is the planet they're gonna be living on?' All of those things really start to hit differently."