Stephen Curry Documentary To Chronicle His Rise To Basketball Glory
The film will take viewers from his early days at a small Division I college to his brightest days so far.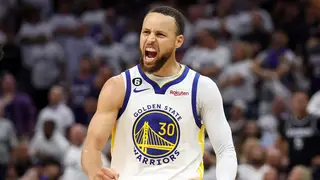 Golden State Warriors phenom Stephen Curry has been the talk of the NBA playoffs for the past couple of days after dropping 50 points (the first to ever do it in a Game 7)  as his team eliminated the Sacramento Kings on Sunday (April 30), 120-100.
After his unbelievable performance, during the post-game interview, he was asked, "So, who can stop Steph Curry?"
"Hopefully, we'll never find out," Curry responded.
But an upcoming documentary on the NBA superstar and his meteoric rise as one of the best players in NBA history will explain just how he got to be that amazing.
Titled Underrated, the forthcoming film chronicles Curry's childhood in Charlotte, N.C., to his time at Davidson College where he led the small Division 1 school on an unforgettable run in the NCAA tournament in 2009, and how he revolutionized the game of basketball as arguably the greatest shooter of all time.
Featuring never-before-scene footage and on-camera interviews, the doc will showcase "where he was raised on a foundation of determination, dedication, and faith" and how those pillars catapulted him into a global superstar. Emmy Award-winner Peter Nicks is the director and producer of the film.
Along with Nicks, Academy Award-nominee Ryan Coogler, Erick Peyton, Sean Havey, Ben Cotner, and Marissa Torres Ericson will serve as producers. Additionally, Emily Osborne, Sev Ohanian, and Zinzi Coogler have signed on as executive producers.
Over the course of his illustrious career, Curry is a four-time NBA champion, a nine-time NBA All-Star, and has been named to eight All-NBA teams. Also, he's won the  NBA Most Valuable Player Award twice, including being the first unanimous MVP, and has won an NBA Finals MVP Award/
Further cementing his legacy as one of the all-time greats in NBA history, Curry made history in stunning fashion with a 50-point masterpiece, a game-seven playoff record, as the Warriors defeated the Sacramento Kings on Sunday (April 30). "Chef Curry" put on a show by scoring 30 points in the second half, including 16 in the fourth quarter.
Next up for Curry and the Warriors is his familiar rival LeBron James and the Los Angeles Lakers who they'll face in the first game of the Western Conference Semifinals Tuesday (May 2).
Underrated premieres in select theaters and premiere globally on Apple TV+ on Friday, July 21.