This Former NFL Wide Receiver Is Creating An Animated Short Film Celebrating Black Fathers Doing Their Daughter's Hair
"Hair Love" embraces natural hair and uplifts Black dads.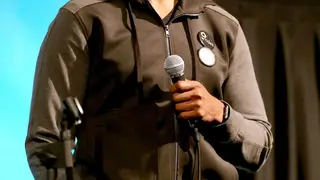 For Black women across the globe, hair is the unifying thread that connects us all. We've experienced the trends, difficulties, criticism, appreciation and love that often follows Black hair like an asterisk behind a lengthy sentence. 
What's more, many Black women remember the days of getting our hair done by relatives — whether it be mother, sister, auntie or even a father.
I remember the time I was still a child who woke up extra early to get my hair done by my mother in the mornings. However, for one week, my mother went away on a vacation with her sisters and the responsibility to do my hair was bestowed upon my unexperienced yet willing father. Although I don't remember how my hair turned out, I do remember the myriad emotions I read on his face during the process.
My nostalgia for getting my hair done by my father and the importance of celebrating Black hair are the two main reasons why Matthew Cherry's short animated film Hair Love caught my eye on Twitter.
Having raised over $200,000 (and counting) for the five-minute film about a father tackling his daughter's natural hair, Hair Love is bound to be a movie that becomes a must-see for all minorities, and Cherry is soon to be a household name.
As his Kickstarter campaign for the movie approaches its deadline (only two days to go), Cherry took a minute to speak with BET News about the importance of his film and where he hopes to go from here. 
Once a wide receiver for the NFL, Matthew Cherry knew that the pinnacle of his success would not happen on the football field.
"Early on, I knew I would have to get my plan B together. I need to start thinking about what I'm going to do next," Cherry told BET.
Once he left the league, he began working as a production assistant (PA) for film and television. After working on sets for shows like Girlfriends and Heroes, Cherry gained the insight to start directing on his own.
Like many novice directors, Cherry directed music videos for several artists, which led him to eventually directing his first feature film, The Last Fall, which was well received at SXSW and made its television premiere on BET.
Now, Cherry looks forward to working on Hair Love, a short film he hopes can become a staple for Black and brown children everywhere.
"I think it's important for kids of color to see themselves represented in this piece. You don't see a lot of curly haired heroines," Cherry said of the film's character Zuri.
Cherry not only wanted to show a young girl embracing her curls and the kink in her hair, but he also wanted to pay homage to the natural hair movement that we've seen around the nation. For Zuri, just like many Black women, "her hair is her power," Cherry said.
Although Zuri and her hair will be prominent figures in the film, Stephen, Zuri's father, cannot be overlooked, and Cherry wanted to make sure a Black man was being represented as a crucial figure in his child's life.
"As a Black man, we aren't represented that well in media," Cherry said. "[We are often seen as] deadbeats, abusive, etc. I wanted to show that Black fathers are just as involved in their kids' lives as any other group."
Hair Love will surely be a great story about hair, fatherhood, embracing natural beauty, with laughs along the way. Just as many of us can remember our hair stories with our fathers, hopefully Hair Love becomes a classic story for all children.
If you'd like to donate to Matthew Cherry's Kickstarter, there's still time. Click here to make a donation.