Hip Hop Awards 2023: Kendrick Lamar's Harmonious Fusion: 5 Songs That Perfectly Blend Hip-Hop and Jazz
The West Coast native has been nominated for several awards, including "Hip Hop Artist of the Year."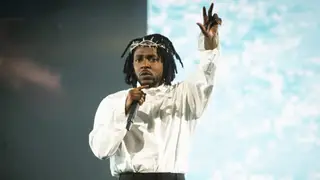 Kendrick Lamar is often celebrated as one of the greatest lyricists in contemporary hip-hop. He has also demonstrated an extraordinary ability to merge other genres with hip-hop. With tracks like his 2015 single "For Free" off his "To Pimp a Butterfly" and his early work with "Rigamortis," the West Coast legend has cultivated a knack for infusing jazz elements into his music, setting him apart as a groundbreaking artist whose work defies categorization.
As we approach the highly anticipated "BET Hip Hop Awards" 2023, it is no surprise that the emcee finds himself in the spotlight, with multiple nominations across various categories, including "Hip Hop Artist of the Year" and "Video Director of the Year."
In honor of the recognition, we're exploring Lamar's artistry and looking at ten songs that effortlessly blended the sounds of hip-hop and Jazz. And don't forget to catch the "BET Hip Hop Awards" 2023, hosted by rapper, actor, and co-executive producer Fat Joe, premiering on Tuesday, October 10, 2023, at 9 PM ET/PT on BET.
These Walls (Explicit) ft. Bilal, Anna Wise, Thundercat

A soulful jazz groove elevates Kendrick's storytelling.

"For Free?"

A playful jazz piano sets the backdrop for the emcee's rapid-fire delivery.

"Complexion (A Zulu Love)"

Smooth jazz elements provide a rich backdrop for Lamar and Rapsody verses.

"Rigamortis"

The frenetic jazz instrumentation complements Kendrick's intricate rhyme schemes.

"The Art Of Peer Pressure"

A  jazz-inspired production with Lamar's vivid storytelling. 

Watch the Hip Hop Awards 2023 on Tuesday, October 10, 2023, at 9 PM ET/PT on BET.