What's Good? Rob Kardashian Got Message From Cardi B And Now He Can't Stop Smiling
How does Offset feel about this?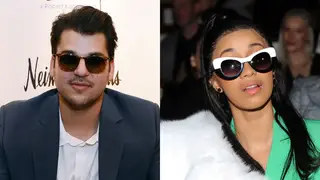 Rob Kardashian has been battling with his weight for years but now is attempting to get into shape and is making some progress.
Cardi B is apparently one who noticed Rob bettering himself. Under a side-by-side picture showing his weight-loss progression she commented, "Yaaaasss Rob!!!!!!"
Words of encouragement or is there something else going on here? What does Offset think? We probably won't know, but shouts to Cardi for encouraging someone trying to better themselves.
Rob reportedly did respond to Cardi's kindness. According to a source close to HollywoodLife, Rob's "so flattered that Cardi paid him that kind of attention, it's done so much for his mood and confidence. He's been smiling non-stop, and now he's even more motivated to get his body back."
See what unfolded below (the comment is in the second pic, swipe right).