Nicki Minaj Wins Best Female Hip-Hop Artist For The 7th Year In A Row
Nicki did it on 'em again.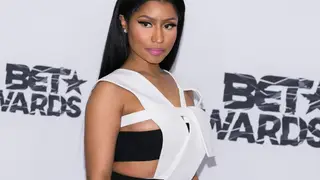 The Queens-bred rapper has won six times in the past, further solidifying her legacy as one of the most influential artists of our time. 
This year, Minaj was up against Lil Kim, Missy Elliott, Dej Loaf and Remy Ma, which arguably may have been her fiercest competition to date. Other ladies who have been awarded the honor are Elliott, who has won five times, Remy Ma, M.I.A. and Eve.
So far out of these nominees, 2016 has only seen new projects from Dej, with her All Jokes Aside LP, but before the year is out, we're hoping that changes. 
Not only does Minaj taking home the title of Best Female Hip Hop Artist mark her seventh win, but her seventh win consecutively. Whoever takes away the crown from Minaj in the future indubitably has big shoes to fill. 
Congrats Nicki! Absolutely legendary.