Mary J. Blige's Husband Wants a Ridiculous Amount of Spousal Support Per Month
Your jaw will drop at the amount.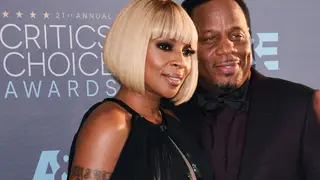 Kendu Isaacs was living the good life when he and Mary J. Blige were married and apparently he doesn't want that to end now that they're divorced.
Earlier this year, the couple split after Blige broke it off after 12 years. According to The Root, on Monday (October 17) Issacs asked a judge to grant him temporary spousal support and the number he's asking for is mind-blowing.
He wants $129,319 a month. Yeah, you read that right.
Isaacs was Blige's manager until she fired him after filing for divorce. He's claiming she made between $1.5 and $5.1 million over the past two years and wants part of it. A prenuptial agreement was signed but Issacs says he signed it without a lawyer present.
Mary J. Blige has already given Kendu Isaacs, who is currently unemployed, $85,000. Guess he wants to hold out on getting that job a little longer.