Dr. Dre Wants Straight Outta Compton Movie to Have an Impact on Women
Beats mogul talks film's goal, putting out new music, and more.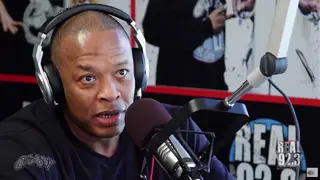 Dr. Dre wants women to be impacted by the upcoming NWA biopic, Straight Outta Compton. The 50-year-old mogul explained the goal of the film, and more, during an open-ended interview with L.A. radio host Big Boy on Real 92.3 this week.
Discussing what he hopes viewers will get from Straight Outta Compton, Dre noted inspiration. "That was the main word we used when we went into this," he said. "We wanted to be inspirational. We want to show the ultimate brotherhood."
 | CLICK HERE TO SEE MORE ON MUSIC BIOPICS |
Their relationships with women is another important part of the film. It was important to show that side of the gangsta rap group, to kill the myth that they didn't hold women in high regard. "What we really wanted to get across is how we feel about women, because there's a big misconception you know? How much we respect our women. These were some of the things we wanted to get across."
Elsewhere, Dre shared stories about Snoop Dogg and Eminem, and revealed that he's working on music. The project could possibly turn into a soundtrack for Straight Outta Compton, but nothing's set in stone. "I don't want to put it out there just yet and say that I'm definitely gonna put it out."
Straight Outta Compton hits theaters Aug. 14.

BET.com is your #1 source for Black celebrity news, photos, exclusive videos and all the latest in the world of hip hop and R&B music.
(Photo: REAL 92.3 via BigBoyTV via YouTube)