Torrei Hart Tells Emotional Story About Hitting Rock Bottom After Split From Kevin Hart
She almost made a decision she could not take back.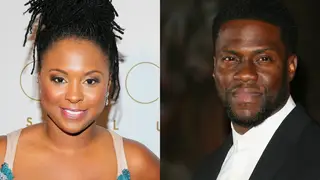 Torrei Hart has detailed her split from her ex, Kevin, in the past. However, she's never expounded on the emotional distress she experienced, as a result of it, until now.
In an interview with the Hip Hop Socialite, Torrei explained that there were days she "didn't want to get out of bed, linking that moment to when she learned of her comedian ex's early romance with his now-wife, Eniko Parrish. She went on to add that she even, at one point, had suicidal thoughts.
"There were days when I didn't want to go on and I was like, 'Well, what do I need to live for?'" she continued. "And, of course, in those moments, I would get calls from my mother, I wold get calls from my sister."
She said that remembering that she still has two children to think about helped her push through the pain. Prayer, fasting and developing a relationship with God, she added, also aided in her reaching the positive head space she says she's now in.