'Tyler Perry's Sistas': Zatima's Foundation is Starting to Weaken
In episode six, Zac's support of Karen starts breaking Fatima down..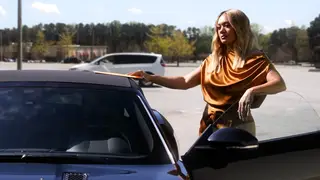 The episode starts with Danni waking up to Preston in her bed. She was so high the night before that she didn't remember getting it on with him. But that's over for now because she gets back to pretending there's nothing between them again quickly.
Let's fast forward a bit. Remember when Hayden jetted off to Vegas with Tamara? Well, he married her. Smh. Gary tells him he can get it annulled but Hayden says he's confused because he likes her despite having just met her. Gary asks for her information so he can look her up in case something is off. Hell is about to break loose because we know she's the opps.
Zac and Fatima are starting to have cracks in their foundation, and it all started with Zac's reaction to Karen being alive. It also doesn't help that Zac meets with Karen at her salon to discuss helping her financially during her rebuilding process.
Sabrina, Maurice, and Calvin meet with a lawyer to discuss the former two's case. Maurice is being obnoxious and immature, as usual. But the lawyer offers some promising information. He says that Quincy isn't reliable due to his criminal record, but the bad news is, there's a recording of Maurice saying he was the mastermind behind the bank robbery. He was joking, but anything he says will be used against him, so that's that. The lawyer will try to get the case dismissed, but it's highly unlikely that will happen. The worst-case scenario is that Sabrina and Maurice get 15 years each. All of this is because of Maurice's stupidity.
Karen and Pam arrive at the salon and discover that Aaron is there too, taking it upon himself to help clean up. Karen thanks him begrudgingly, and then Zac shows up. The tension between the men is palpable, especially when Karen asks for a moment to speak to Zac alone. At some point, Karen kisses Zac on the cheek, but it's a slow, passionate kiss, and she doesn't notice that Fatima is standing there, a few feet away, watching the entire thing unfold from the car since she was the one who gave Zac a ride there.
We end with Fatima's death stare.