Liberal Celebrities Who Helped Elect Trump, Kindly STFU About DACA
You already proved that your ideology matters more than our safety.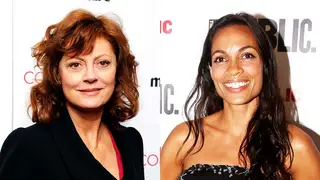 Dear Famous Liberals Who Refused To Vote For Hillary Clinton,
It's time to call bullshit on your so-called social-political revolution — one that only a person of extreme privilege has the luxury to champion. Susan Sarandon, let's start with you. I know you were "so excited and encouraged by the idea that maybe if everything is falling apart so obviously," we would come together as a people. But spare me your sympathies now that Judgment Day has come.
But here's what your privilege didn't allow you to see: we had already come together. You were just too consumed with your own righteousness to see it.
Where, pray tell, was your hashtag outrage when we were screaming at the top of our lungs that we needed your vote to secure our rights and protect our lives? Oh wait, you were screaming over us that they — Hillary and Trump — were one in the same.

How's that sameness working out for you now, Susan and Rosario? Oh wait, you're fine. In your rarefied bubble of money, celebrity and privilege, nothing can touch you. You are the elite.

As for the rest of us out here in these streets? We're pissed.

We're pissed because these celebrities don't get tell me and my people that you stand with us now, when mi gente asked them to stand alongside us with their votes.


Heartbroken and disappointed that one of the greatest living heroes of our time, who inspired millions by starting an unprecedented movement in the good 'ol boys club of NFL football, decided to bend the knee when it came to a right our ancestors died for — voting.

And your silence still stings. Only because you have been our biggest champion and our loudest voice in the places where real representation of our people's anger has always lacked, on the field and in the trenches of mainstream society.  

But let's get one thing straight. We're not just angry at you. We're angry at all of those people who didn't listen when we tried to tell them that the sky was falling; that all this was going to happen. That if we didn't come together with our votes that we were going to fall apart, one nation divisible with inequality and injustice for all who aren't White.

But the difference is, their Twitter feeds don't reach millions. Their words didn't make headlines, and influence many of the Millennials who opted to stay home on election day. They weren't nearly as effective in trying to convince the world that purity tests mattered more than White supremacy.

While these Dreamers you claim you "stand up" for live in fear that they'll have to pack up their homes, abandon their lives and get shipped off to unfamiliar lands, you're free to express your outrage in 140 characters as you jet around the world with the security of an American passport.

And the reality of your privilege is this: your delusion of sameness has cost us our bodies, our rights, and our security while your own remains unscathed. Is this the solidarity, the power of the people, of which you speak? Is this what you want us to rally behind? Your false ideals and movement of disconnected privilege?

Well, you can keep your Pepsi Cola revolution. We don't need your help to overcome.

The views expressed here are solely of the author and not BET.com.